Of all the industries close to our hearts, perhaps the one this current crisis has hit the hardest is the restaurant business. Here at Timothy Everest, we consider ourselves incredibly lucky to be within crawling distance of some of London's best eateries.
At our Redchurch Street store we have Lyle's, Albion, Brat, The Smoking Goat and Cecconi's all on our very block, whilst our Bruton Place shop looks out rather tantalisingly on the legendary Guinea Grill.
Recently we caught up with customer and friend of the brand, Adam Symonds. Adam is general manager at acclaimed North London gastropub The Bull & Last. This Kentish Town institution had just reopened after a massive 18 month refurbishment, with the team rearing to go. We spoke to Adam about his working life in restaurants, and even managed to coax a recipe out of him for you to try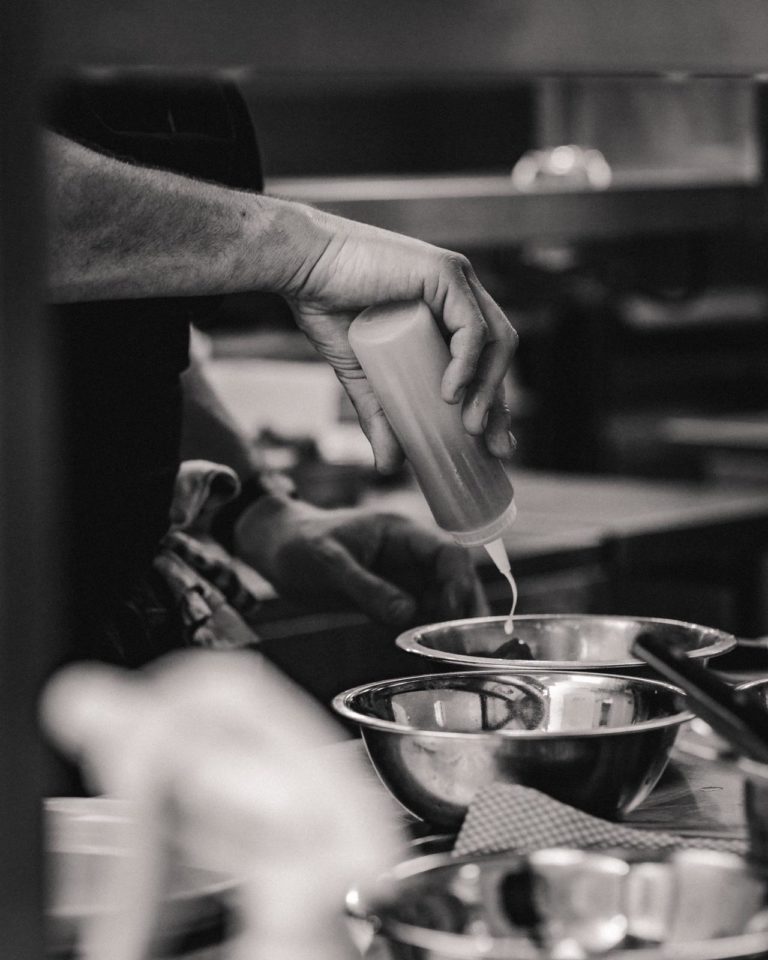 "I fell into hospitality. Playing music throughout my 20's, it was an easy option and a much-needed income boost. On entering my 30's I realised, quite accidentally, I had embarked on a career I loved.
My love of restaurants, however, is a selfish one.
I relish seeing friends catch up alongside a beautiful bottle of wine or families celebrate with a meal – thoughtfully cooked by a chef whose care and respect for the produce is paramount.The sight of smiling faces and our contribution to the pleasure in someone's evening, brings great joy.
We create a warming space to house this in. Worn but not untidy, cracks in wood telling stories, rather than showing neglect, floorboards unchanged for 100 years, rich in character not from lack of care. 
Good restaurants, much like a well-made suit, age well, given the right attention. 
Which makes it all the much sadder that we stand empty. Along with our friends in the industry we will remain this way until safe to do otherwise. In the meantime, we hope you enjoy a simple one pot recipe from our head chef & co-owner Ollie Pudney. Nothing fancy here, just good ingredients simply cooked – the kind of food we love.
Spiced Sausage & Chickpea Stew, Boiled Rice, Greek Yoghurt & Lemon
Serves 4
Ingredients
6 pork sausages
6 Merquez sausages
1tsp Ground Cumin
1tsp Ground Coriander seed
Pinch of Chilli flakes
1 large White onion – sliced
5 cloves of Garlic – finely chopped
1 Carrot – peeled and cut into 3mm slices
1 Courgette – cut in half and into 10mm slices
1 x Tinned chickpeas (out of water) – 400g
1 x Tin of chopped tomatoes – 400g
350ml Chicken stock
Thyme and bay leaf bouquet Garni
Pinch of flat parsley leaves, shredded
Lemon in half
Greek yogurt
Enough basmati rice for 4 people
Heat a cast iron casserole pot over a medium heat, add a little rapeseed oil. Add both types of sausages, use a pair of tongs to move them around and colour nicely on all sides. Remove sausages from the pan and place on a tray to one side.
Now, using the residual fat in the pan, add the spices, oregano and chilli flakes, stir to toast off on a low heat for 2 mins. Add in sliced onions, cook them down until they soften, add a little more oil if needed. Now add in the garlic, carrot, courgette, chickpeas, chopped tomatoes, bouquet garni and the chicken stock. Bring up to the boil and simmer for 15 mins. Add all the sausages into the pot and cook slowly for another 30ish minutes until the sauce thickens and sausages are cooked. Season with salt and pepper and taste.
Cook rice as per packet instructions.
Squeeze lemon and stir parsley through the stew. Serve with some thick Greek yogurt."