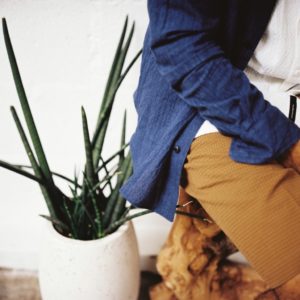 With the sun finally reemerging from the winter gloom, we're taking a closer look at some of the exclusive cloths in our ready-to-wear range this season. All have been designed with the warmer weather in mind, rising to the challenge of keeping you smart in the summer months.
First up is a lightweight navy and brown check cotton seersucker. An absolute show stopper of a cloth, we have made it up in our double breasted DB Blazer and a choice of either the flat front trouser or pleated pant. It pairs beautifully with our tan core shirt or quartz lightweight link stitch sweater.
We also have a cashew seersucker, but in a denser cotton / wool mix, offering a more textured tactile handle. You can pick it up on our Windsor jacket, box shorts and flat front trousers. We have been teaming ours with the ice bright Cuban shirt and Moroccan Blue linen polo.
On the subject of linen, nothing says Mediterranean elan quite like our Ivory linen/cotton mix Prince Of Wales check. Available in our Windsor, box short, it's also the perfect choice for our high waisted Pleated pant. Throw on our navy linen jumper and you're good to go.
Finally, reminiscent of a classic Ivy League madras, we have used a new gingham cotton for our Travel Blazer and chino short. For full prep style, our Pen Pocket shirts make the perfect companion.
All of our seasonal cloths above are also available on our made-to-measure and bespoke programs as well, should you have something particularly special in mind.