Our Guide To Wedding Suits
With the news that life can slowly begin returning to some sense of normalcy, one of the many things we are looking forward to, here at Timothy Everest, is the return of wedding ceremonies. With all the attendant guests, catering, dresses and most importantly for us, the groom's attire.
With our current offer in place to help out the Bridegroom on his big day, we thought it might be a good time to take a dive into the world of wedding wear for gentlemen.
Broadly speaking there are three ways one can go when it comes to looking your best on the (hopefully) most important day of your life. Here's our handy guide to how to navigate them: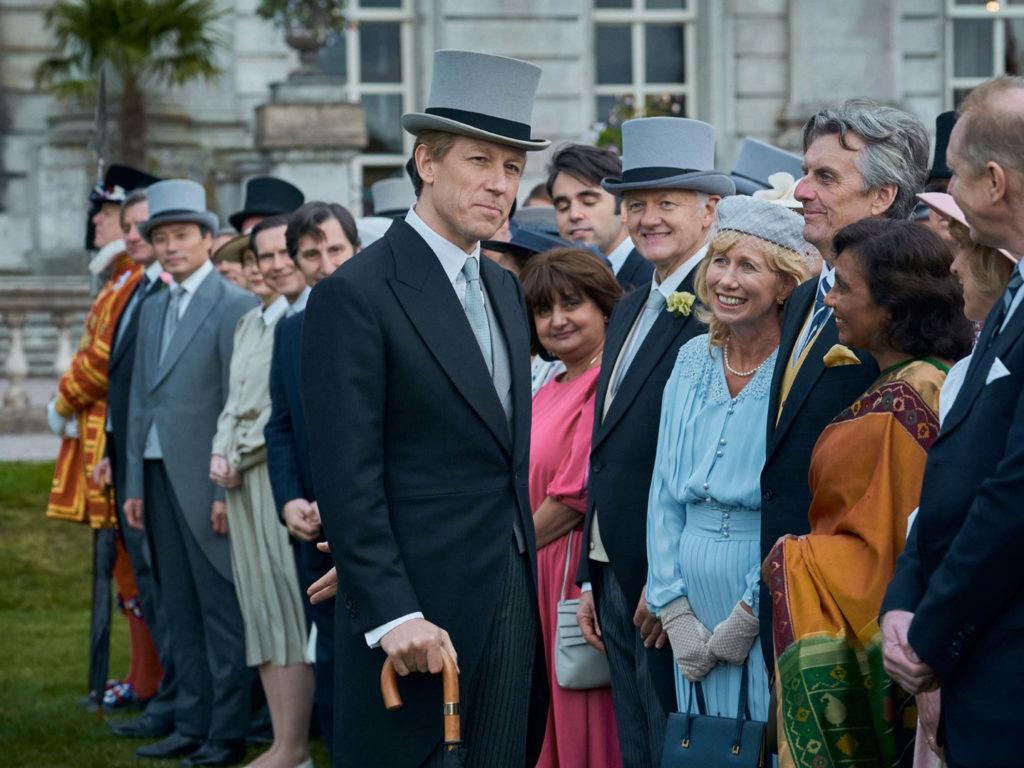 By far the most traditionally British choice for the ceremony, Morning Dress comprises a dark coloured tailcoat, a light coloured waistcoat and striped trousers. This is usually accompanied by a white dress shirt with spread or wing collar, a pastel coloured tie and black captoe shoes or boots. 
The ensemble takes its name from the 19th Century look of a gentleman on his morning rounds, the tailcoat cut in a manner to suit horse riding – the preferred method of transport. In current times, the look is only seen at weddings and summer events and one can cut quite the dash in this natty ensemble. 
The coat should be single breasted with one button or silk link, a peaked lapel and gentle sloping front ending just so, behind and above the knee. Black, navy or charcoal worsted look the most dapper, but lighter greys can be entertained, with silk piping at the lapel and cuff for the more adventurous. 
The "odd" waistcoat should be a pleasing dove grey, pale buff or egg shell blue. A double breasted U-shaped or peaked number is just the ticket. 
Black & white 'banker' stripe trousers are de rigeur for the occasion; high waisted enough to sit under the waistcoat, usually detailed with brace buttons and side adjusters and without turn ups. 
Prices for our made-to-measure three piece morning suit start at £1750, and we will get you kitted up in a complimentary made-to-measure shirt and ready-to-wear tie for the occasion as well.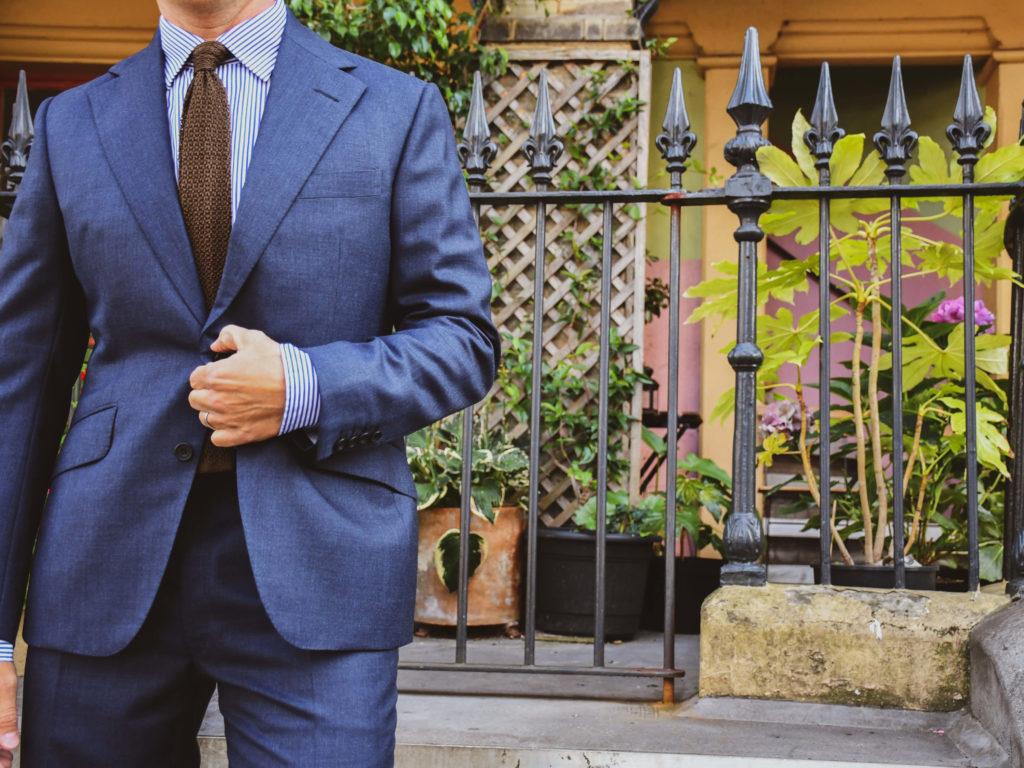 The tried and tested well cut lounge suit makes all the impression it needs to for most grooms; offering the most contemporary choice.
We recommend high-twist or dry weave wools like Fresco for a flawless wrinkle free look and all-round quality.
We advise sticking to the navy and grey palettes, if the gentleman is unsure, and to let his accessories do the talking. Matching your tie or pocket square to an element of your partner's ensemble for example.
We always have a wide selection of ready-to-wear suiting options in store, and our made-to-measure two piece suits start from £1195. We will be happy to throw an MTM shirt and RTW tie into the price to help with the decision making.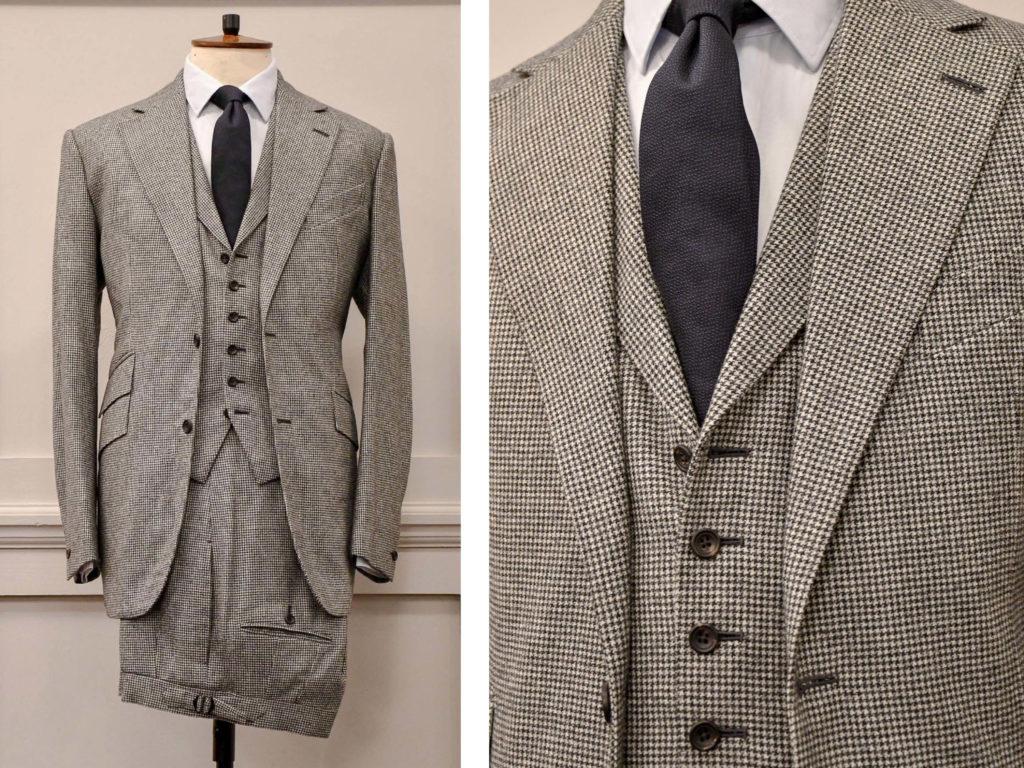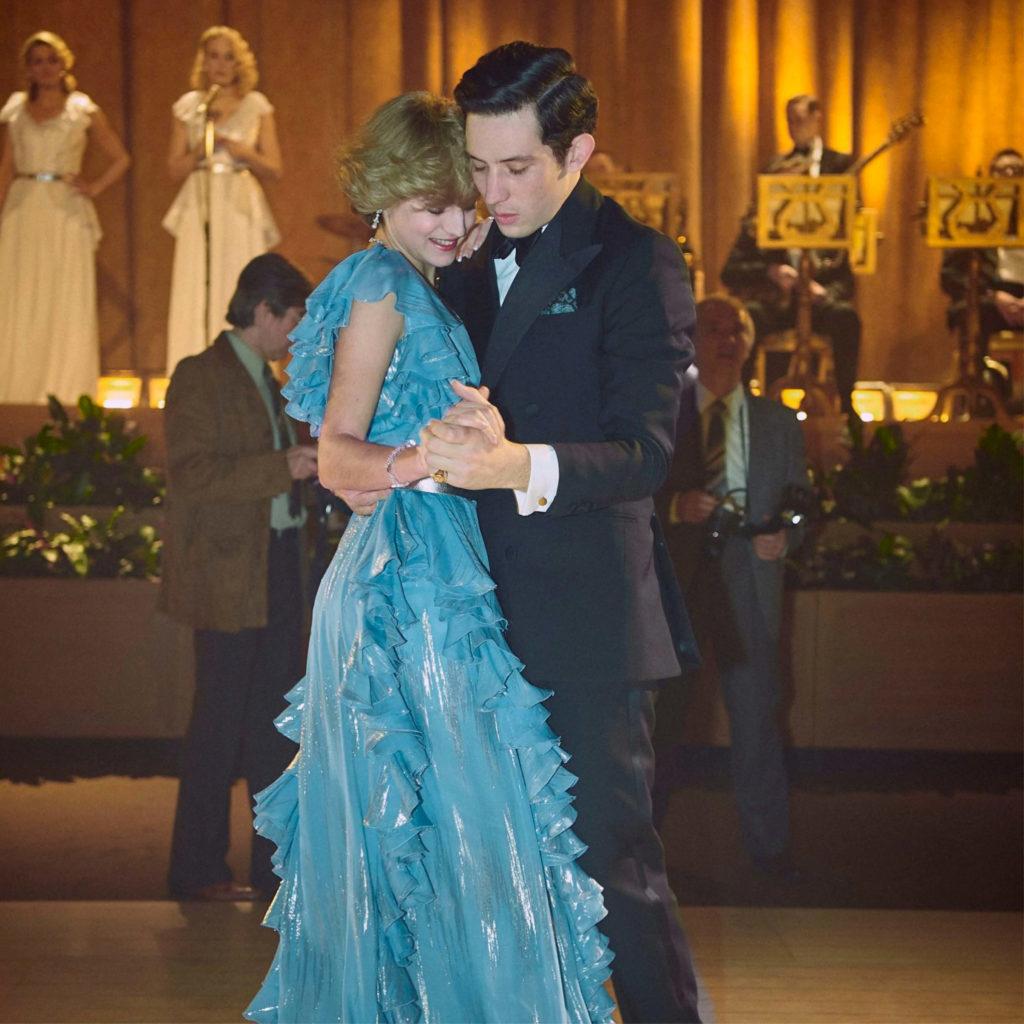 While still considered unorthodox by many Brits, across the Atlantic gents will happily tie the knot in evening wear. It is certainly an option to consider, especially if planning on celebrating late into the night.
The accepted wisdom is that a midnight blue Barathea wool with silk facings makes for a sterling choice, with dinner trousers in the same cloth with a silk stripe at the outer seam.
Black patent shoes, white dress shirt and bow tie complete the picture. Please do not mix a four-in-hand tie with a dinner suit, this Hollywood award ceremony aberration is best avoided.
The alternative, and more daring option, is to pair black dinner trousers with a smoking jacket in another colour. Ecru, wine and bottle green all make handsome combinations, but remember to choose the same colour facings for the lapel and keep the rest of the look monochrome so as not to go overboard. Velvet, Barathea and silk/wool mixes all fit this particular bill handsomely.
As a rule, we carry a midnight blue dinner suit in stock as a ready-to-wear selection, and made-to-measure dinner suits start at £1395. The made-to-measure dress shirt and white pocket square would also be on us, for all MTM and Bespoke suiting orders.