While it has been an uncertain and precarious time for everyone of late, small signs of normalcy and progress keep popping up. We were particularly heartened to hear that our good friends at Sanders Shoes recently restarted production at their factory in Northamptonshire, the home of British shoemaking.
We have worked with Sanders since our days in the house at Elder Street, and their classic Playboy model is something of an icon for us. Its all-round ability to work with bespoke and made-to-measure suiting and our more casual ready-to-wear collections makes it a perennial best seller for us, and we now carry both the Lo-Top shoe and Hi-Top boot iterations in seven different tones.
The Playboy Boot has its roots in the private orders placed by soldiers based in North Africa in WWII. It was the British post-war youth cultures that gave it its status, however, donning the feet of Teddy Boys, Mods and Punks throughout the years. It even has its own cinematic heritage thanks to Steve McQueen in Bullitt and Daniel Craig's turn in the recent Bond chapters.
Sanders started making their boot in the early 60s, and little has changed in their production ever since. It is still handmade, with over 200 operations from factory floor to box, with all 100 workers at the factory adding their skill set to its creation. Original machinery is still used for the unique 'foxing' process where a 2mm thin crepe layer is applied to the sole in one piece – an expensive but more aesthetically pleasing way to finish each pair.
That is not to say that Sanders are afraid of innovation and improvement. While the plantation crepe used for the soles is still grown in Sri Lanka, the English tanned and cured suede used for the uppers is now treated and waterproofed for longevity, a recent development taking advantage of changing techniques. And two years ago, after going back and studying the original archives, the company launched their "Polo Snuff' colourway – an exact and faithful tone that replicates the original hue as worn on stage and screen in the model's early days.
So, owning a pair of Sanders Playboys  is a little like owning a small piece of English post-war shoemaking history. The more things change, the more they stay the same.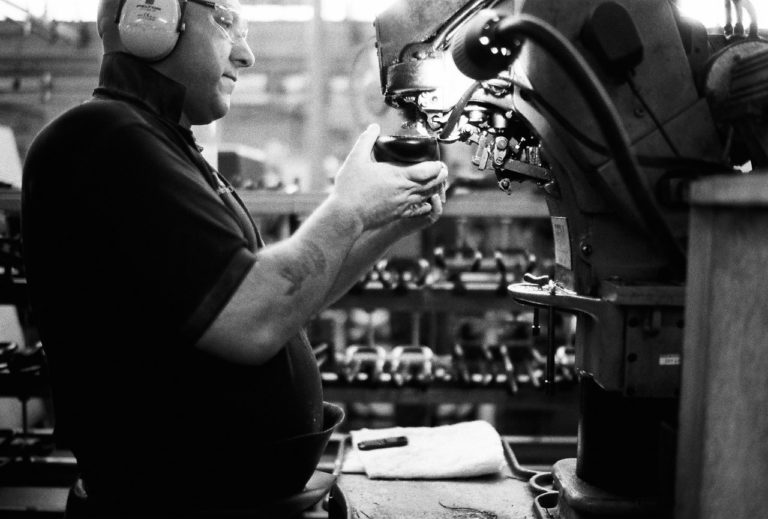 Photograph by Jim Marsden from our visit to the Sanders factory in Northamptonshire in 2016
We have seven colour ways available in both the hi and the lo iterations of the playboy by Sanders