Five ways to dress for Christmas Day
Ensembles for any scenario
Whether you're planning on taking a winter stroll outside or having a formal dinner with the family, these five Timothy Everest ensembles will cover you for any Christmas Day scenario…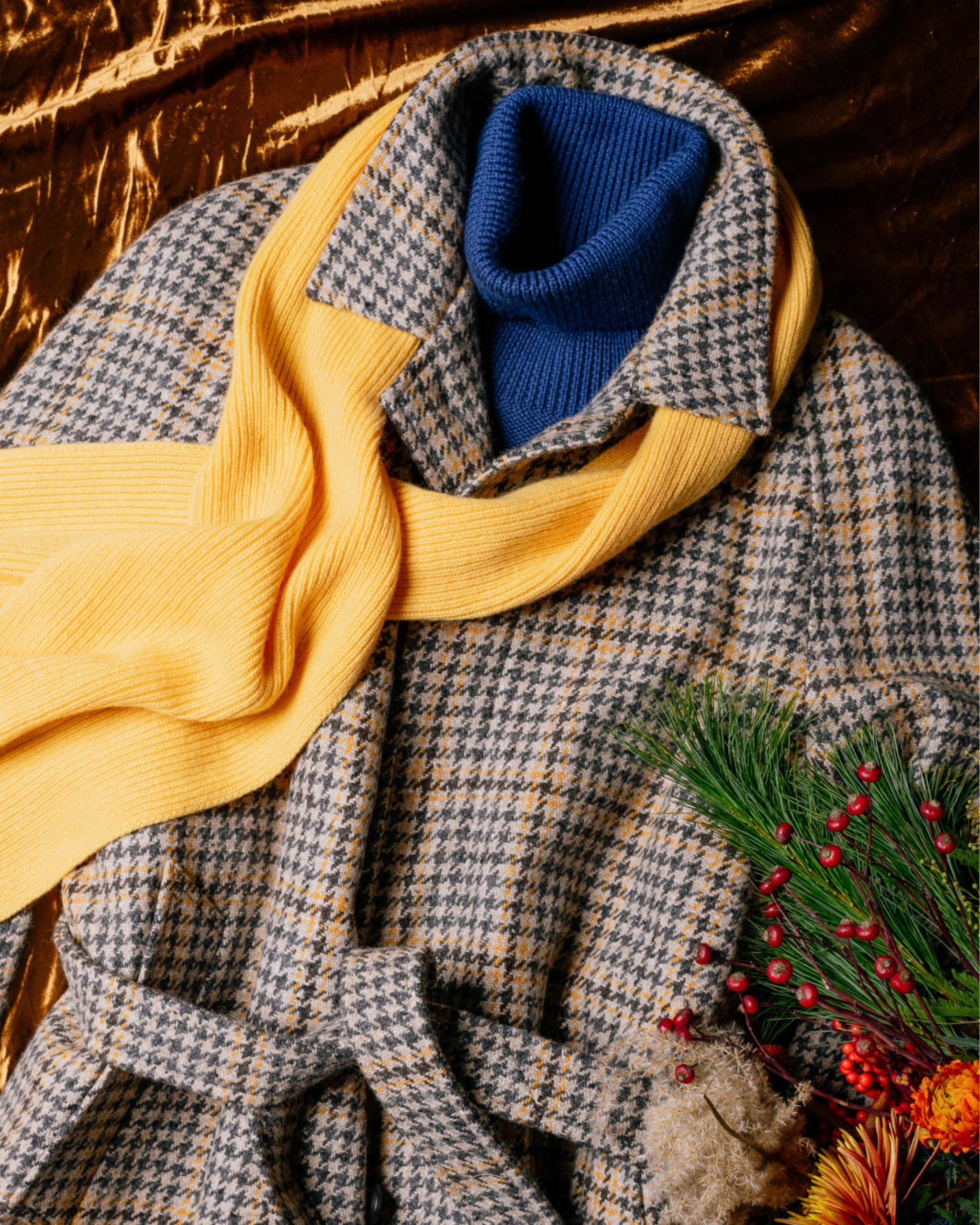 While the likelihood of another lockdown is looking pretty imminent, we're not going to let it put a damper on our festive mood. Christmas is, after all, only three days away, and our spirits are flying high as we scramble to sort out the dreaded dinner shop, last minute gifts and family plans for the most joyous day of the year.
As stressful as those last minute plans always are, there's one department you shouldn't worry about, and it's because we're here to help you out with it. Drumroll: your Christmas Day wardrobe. Sure, pyjamas are a good shout for opening gifts in the morning, but the 25th December is a brilliant opportunity to show off your style game to all: whether it be through a formal family dinner or afternoon walk through your local suburb.
So herewith, five ways to approach festive fashion. May your day be merry and bright.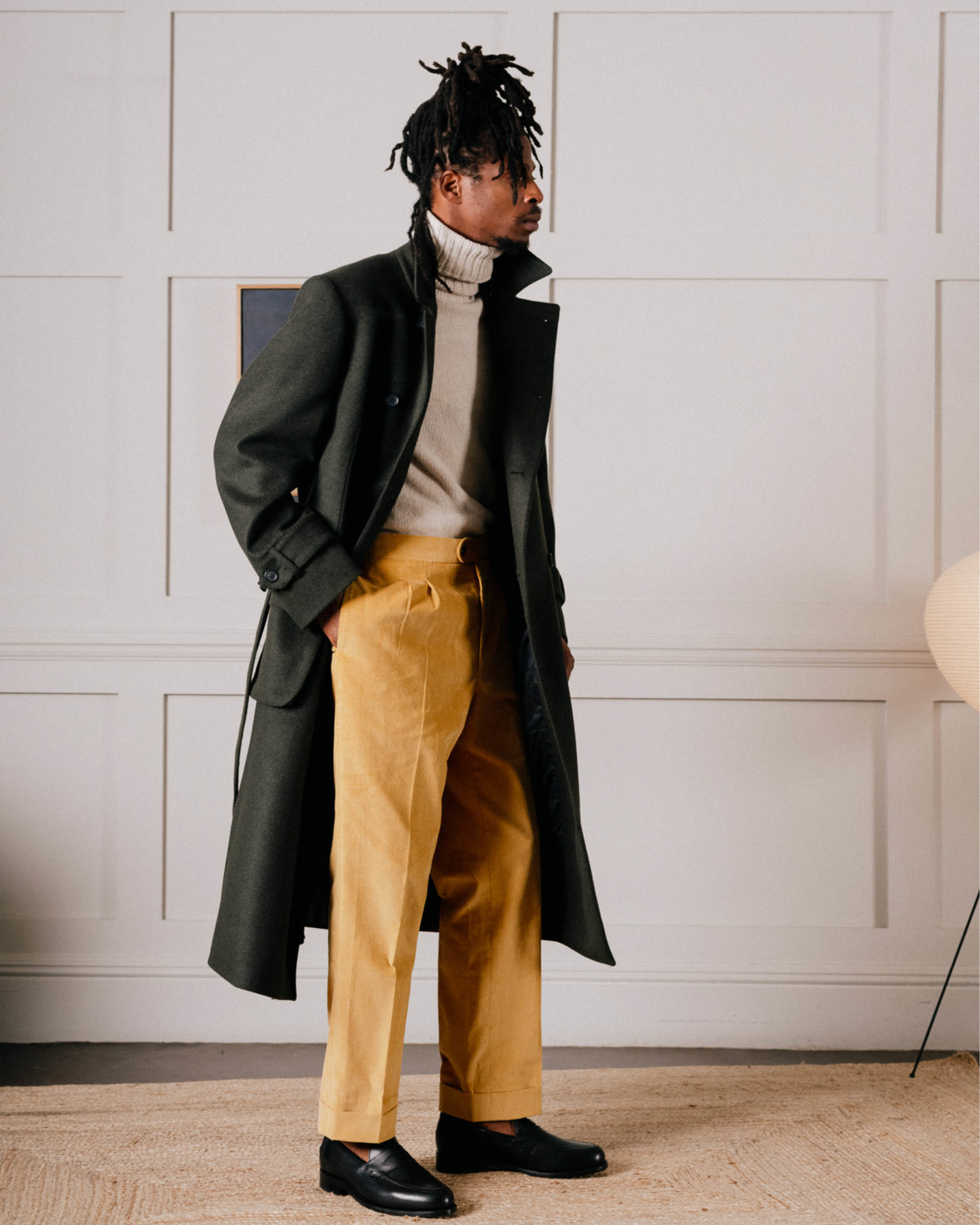 For a brisk walk outdoors:
A dark double breasted overcoat
If you like to welcome in Christmas through a brisk morning walk, there's only one piece you need: a stylish (yet cosy) overcoat. Our double breasted design ticks the boxes for both: crafted from a luxury cashmere and complete with welt pockets for ultimate practicality.. Wrap this around your most relaxed essentials (perhaps even pyjamas) for an instant elevation to your outdoor festive excursion.
For a relaxed lunch:
A cosy roll neck and cord trousers
Want to keep things stylish at the dinner table without looking too formal? Chunky textures are key. Specifically, lambswool and corduroy – each of which form part of our Autumn/Winter 2021 collection. For the upper layer, we advise an ivory roll-neck for instant comfort and elegance. As for the lower layer? Berry corduroy trousers to embrace Christmas' ultimate colour combination.
For a formal family affair:
A sharp double breasted suit
For the formally minded, a silhouette of show-stopping tailoring is essential for a Christmas Day gathering with the family. How to ensure you draw all eyes? Easy: through a double breasted design. Our current style comes in a navy check washed wool – the perfect warming texture for the winter season – and is finished with sharp peak lapels for a sophisticated statement. If you're on the lookout for complimenting footwear, our classic penny loafers will seal the deal.
For a fun afternoon with your kids:
A bright crew neck and jeans
Christmas is an easy excuse to have fun with your family. If, in your case, that extends to kids, it's highly likely their spirits will be high – so it's a nice idea to lift them even more through a bright choice in attire. Start with a block-coloured crew neck sweater (our abstract blue one is a winning choice for winter). And to keep things casual underneath, a pair of straight-cut jeans from our collaboration with Fullcount. Opt for white (if you dare).
For the snow (weather permitting):
A pair of leather Chelsea boots
Our final request for Christmas Day? Probably the same as yours: let it snow. Though we can't call this one for sure, should the sky decide to deliver, the best way to be equipped for the frosty weather is with a pair of chunky leather Chelsea boots. Our Liam style combines a calf leather upper with a studded rubber sole, and is also lined with complete leather for a real luxury feel. A set to see you through the day (and rest of the season, for that matter).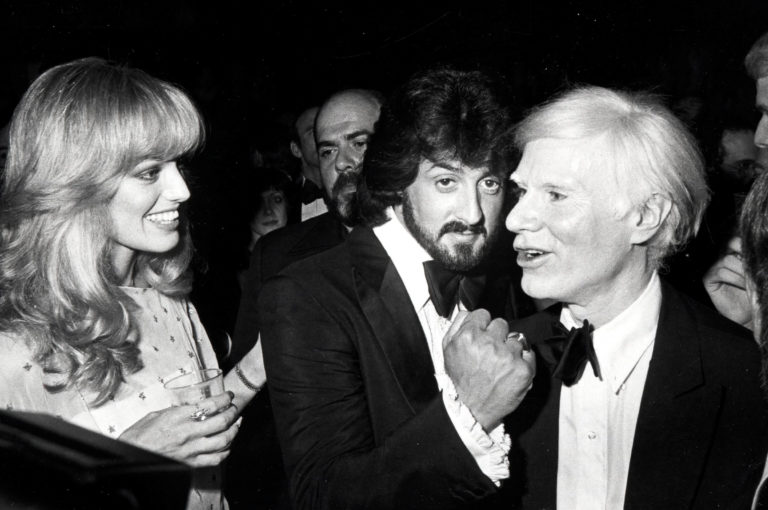 (All thanks to cultural icons, of course)