For your next (outdoor) pub visit
Stuck on an outdoor outfit choice to look good while also accommodating the ever-changing weather? All you need to do is take a cue from one of these classic cultural figures…
Culture is important for creativity. Whether conscious of it or not, our connections with other people are what inform our understanding of the world, and subsequently, how we choose to express it via meaningful work. Given that our lives have lacked connections over the past year, it's safe to say that our creative juices have been at a bit of a standstill. Thankfully, that status has recently changed with the reopening of outdoor terraces here in the UK. And so for the style oriented comes one big question (second to a drink order, that is): what are we supposed to wear?
If you've embarked on a pub visit over the past few weeks, it's highly likely that the answers you've seen to this question centre on one priority: comfort. Of course, it makes sense, but for most people, this description is taken almost too literally – a "duvet" coat, really? – and in doing so, kind of makes an insult to the fact that we can actually dress up again. That's not to say you should don your finest three piece suit for the occasion (equally, we're not against it), but you can still embrace elegance – all the while keeping things practical – by way of relaxed essentials. If that idea takes your fancy, good news: you'll find everything you need to achieve it on this site, as part of our Spring/Summer 2021 ready-to-wear line.
But before embarking on your product browse, we thought we'd share some top styling references from our favourite cultural figures who made a case for this kind of gear. Embrace your Timothy Everest purchase in the same nature to stand out in the outdoor crowd…
First up, our favourite French film star: Alain Delon. As one of the leading men to make a case for serious insouciance via style, his go-to garment for outdoor drinking was simple: a white button down shirt. Button down being the operative words here, as he chose to leave his shirt half open while wearing – a good way to welcome in the warmer seasons while also giving off a classic bit of nonchalance. In short, you know what to do with yours.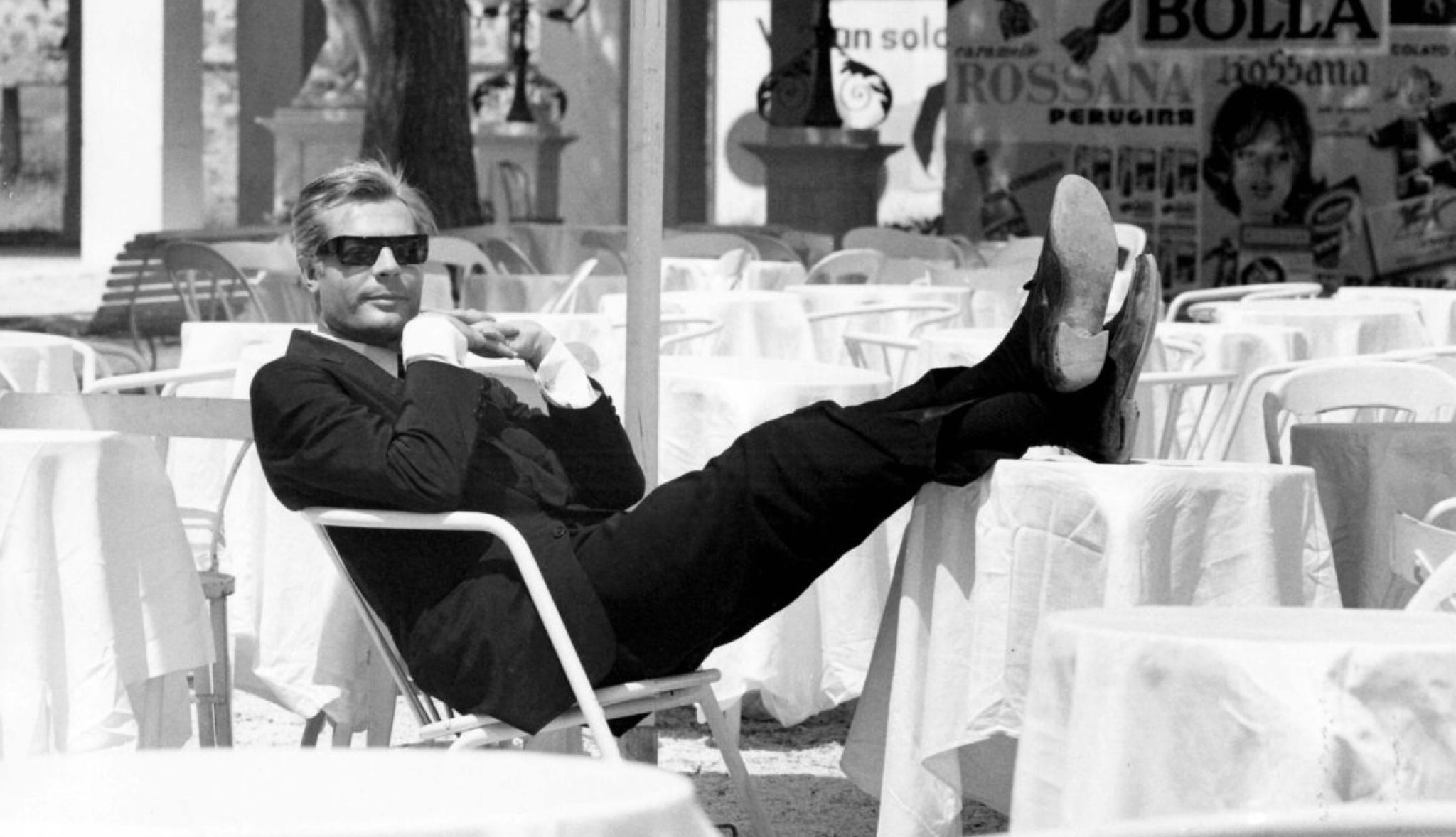 A good drink in good company calls for, well, a good suit. Don't believe us? Allow Italian star Marcello Mastroianni to change your mind. Specifically, in Federico Fellini's drama 8½, the 1963 film in which he plays a rather troubled filmmaker. Fortunately, you'd hardly guess his personal problems due to his incredibly suave style: a black, single-breasted suit partnered with some battered leather loafers, an oxford shirt and narrow black shades. If a dinner is involved alongside your outdoor drinking, this is the ultimate wardrobe reference – just as long as you embrace it in linen to nod to the warmer season.
Two words define the wardrobe of writer James Baldwin: refined sophistication. Case in point for such: the above coffee (and probably writing) date, for which he chose to wear a short sleeved oxford shirt featuring a narrow stripe. This is a simple – but, rest assured, the most effective – print to turn to in the summer seasons, and with 2021 in mind, we suggest embracing it in a bright yellow shade to communicate some essential optimism for the year ahead. Oh, and if it gets a bit cold while you're sitting outside, a linen jacket will do the trick. See below for further reference.
As one the Fab Four, George Harrison is first and foremost associated with the Beatles uniform: skinny mod suits, skinny ties and heeled chelsea boots. Iconic though it may be, Harrison was actually a bit of an underdog with his off-stage style, and for the occasion above, chose to serve some drinks in a brilliant work jacket. Worn a little oversized and left unbuttoned to show off his excellent grandad shirt underneath, this certainly fits the dress code for comfort, but it looks completely effortless at the same time. Style yours with some straight cut jeans and a wide leather belt for maximum Harrison effect.
If, like us, you'll seize any opportunity to bring some sartorial pizazz back into your style game, there's one accessory above all to turn to: the skinny tie. Evidently, David Bowie agrees, as he chose to seal his button down oxford shirt (great collar there) with a classic polka dot design. The result? A subtly flamboyant fashion move which looks well assured while also implying that he's a bartender who means business. If an effective outing is your ultimate goal for the pub, do yourself a favour and pull out some similar formalwear – it's getting tired of sleeping on your shelf.