How to settle your style into Spring
(Hint: it's all about colour)
Oh, how we're ready to welcome Spring. With its longer days and (fingers crossed) warmer weather, a sunnier state of mind is naturally triggered – and the best way to express it with flair is through your fashion. While the initial approach is to let loose on thinner layers and lighter tailoring options, the spring silhouette arguably amounts to less if it fails to frame an optimistic attitude. Fortunately, the solution to doing so is incredibly easy: colour.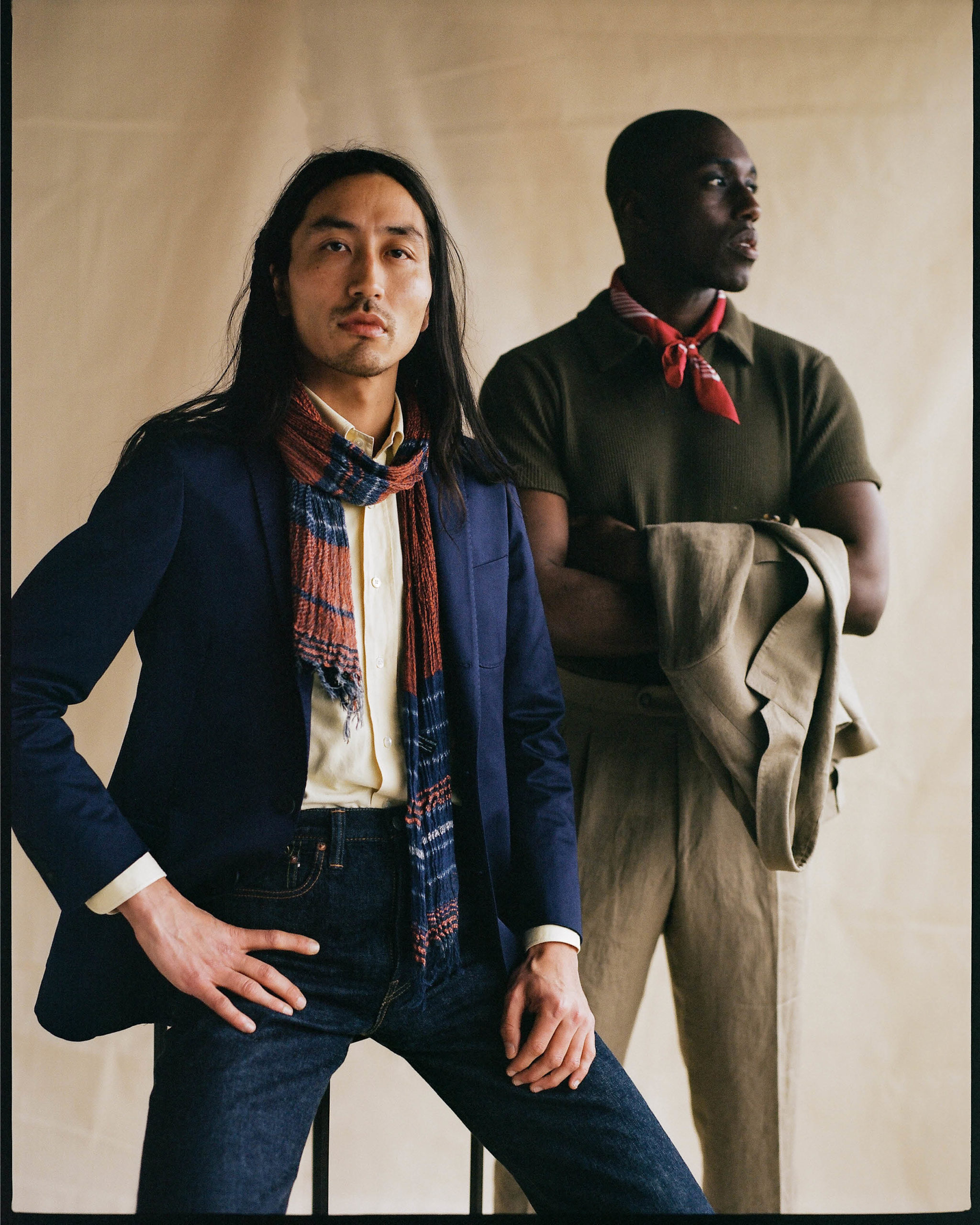 Now, we will admit that saturated shades are a bit overwhelming in the wardrobe. Head to toe yellow? Not likely to fit the bill of your average tailoring fan. Our approach to colour, however, comes from a less intimidating perspective: light pastel shades and earthly palettes, all of which elegantly run through our Spring/Summer 2022 collection. So to celebrate the arrival of cloudless days, allow us to five key starting pieces to communicate the lifestyle change.
Through a Redchurch Shirt
The first stage in injecting some colour to your Spring wardrobe comes through an upper layer. Specifically, a long sleeve shirt: one that subtly brings some formality to your wardrobe but is crafted with a light structure to guarantee comfort throughout all hours of the day. Both of these traits you will find through our new redchurch range: made from a soft cotton, shaped around a relaxed appearance and finished with a sharp button down collar. As an easy transition from a classic blue shirt, we suggest starting with the mint shade, which can be easily paired with tailored trousers or casual denim alike.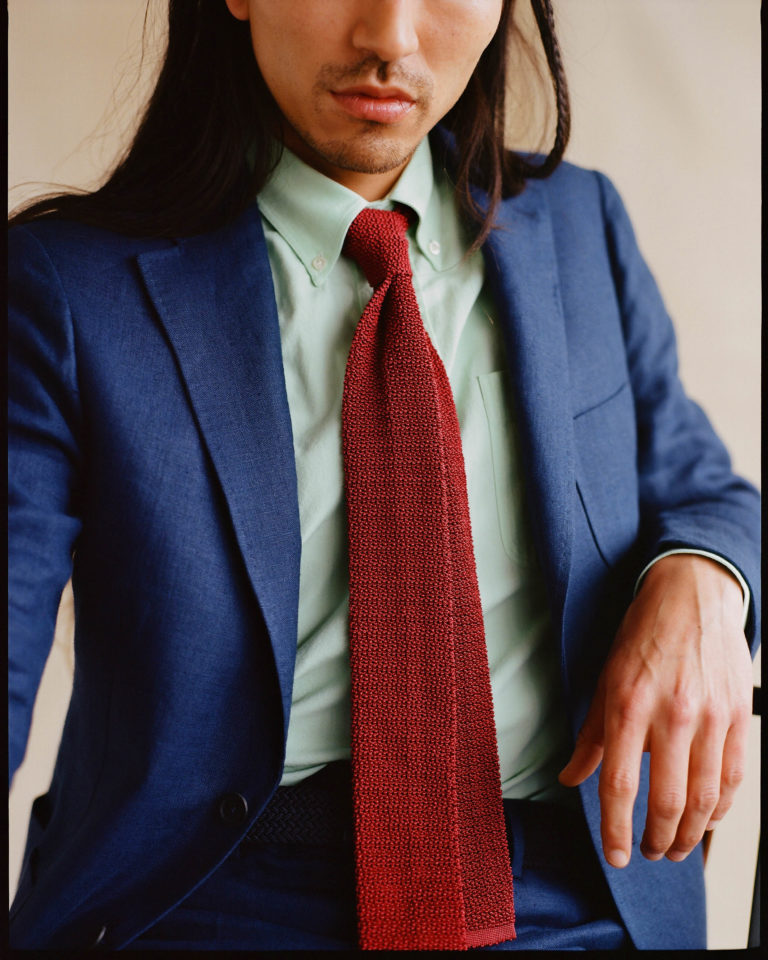 A pastel coloured shirt looks great unbuttoned through the warmer seasons, but a dreary forecast is always on the table, so your best ingredient to be equipped for it is a knitted tie. Discreetly adhering to lower temperatures through its thick silk-woven texture, this is the perfect accessory to seal the aforementioned redchurch shirt – and with colour on the mind, our latest collection offers it in an abundance of eye-catching shades. Our top pick for selection is the pink design: an instant way to centralise your attire with just the right dose of flamboyance. If a full-blown coloured ensemble doesn't align with your style sensibilities, this is the solution to top your best white shirt.
Ok, so you've got the upper half of your spring style sorted. Now, what about the lower? Don't worry, we're not going to suggest you wear a pair of pink kecks too (though if you're into it, go for it). Spring provides the perfect opportunity to up your denim game, and the easiest way to do so is through a striking white style. Conceived in collaboration with helmed Japanese makers Fullcount & Co, our selvedge denim style is cut with a high waistline and straight leg to flatter any given silhouette, and is complete with a tapered hem to ensure a good amount of elegance upon wear. Giving a serious David Hemmings in Blow Up reference, these look brilliant paired with your favourite sports coat.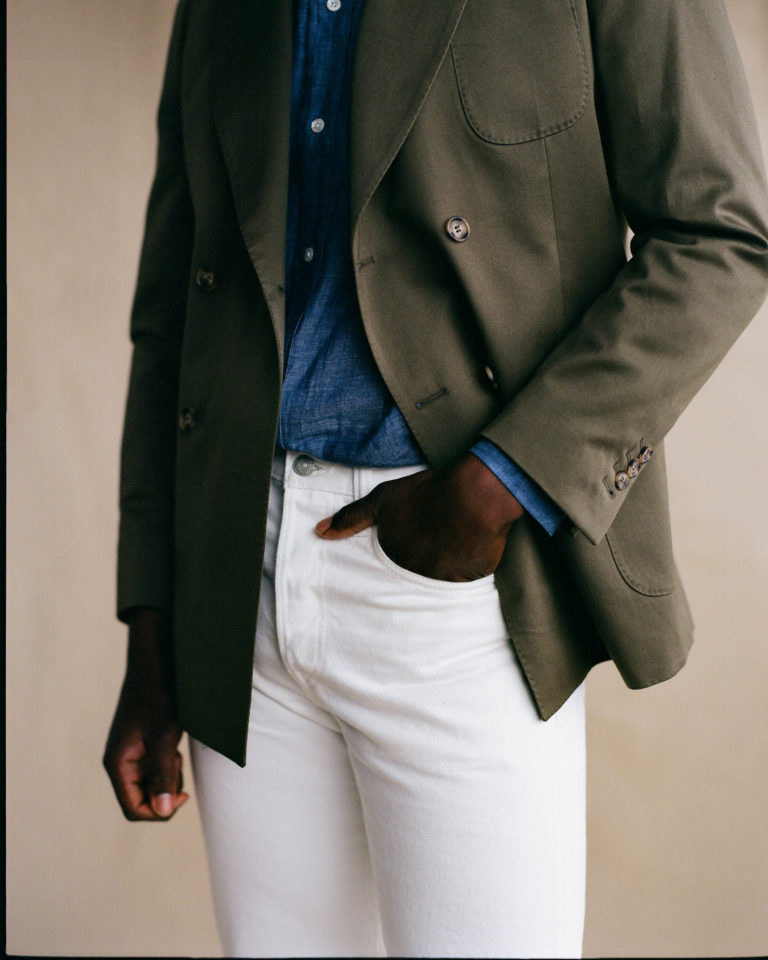 Take a look at the wardrobe of any style icon cruising through the warmer months, and it's guaranteed that a short sleeved polo shirt sits in it. A popular texture choice is cotton piqué, but we wanted to move away from convention in our new collection, so we decided to shape the style in a waffle knit instead. The cuban piece features a V detail placket and wide collar, and through this cream shade, is guaranteed to deliver a great deal of seasonal discernment without screaming too much of a statement. For maximum effect, we advise pairing it with selvedge denim jeans and brown chukka boots on a city stroll, and high waisted gurkha shorts during a vacation.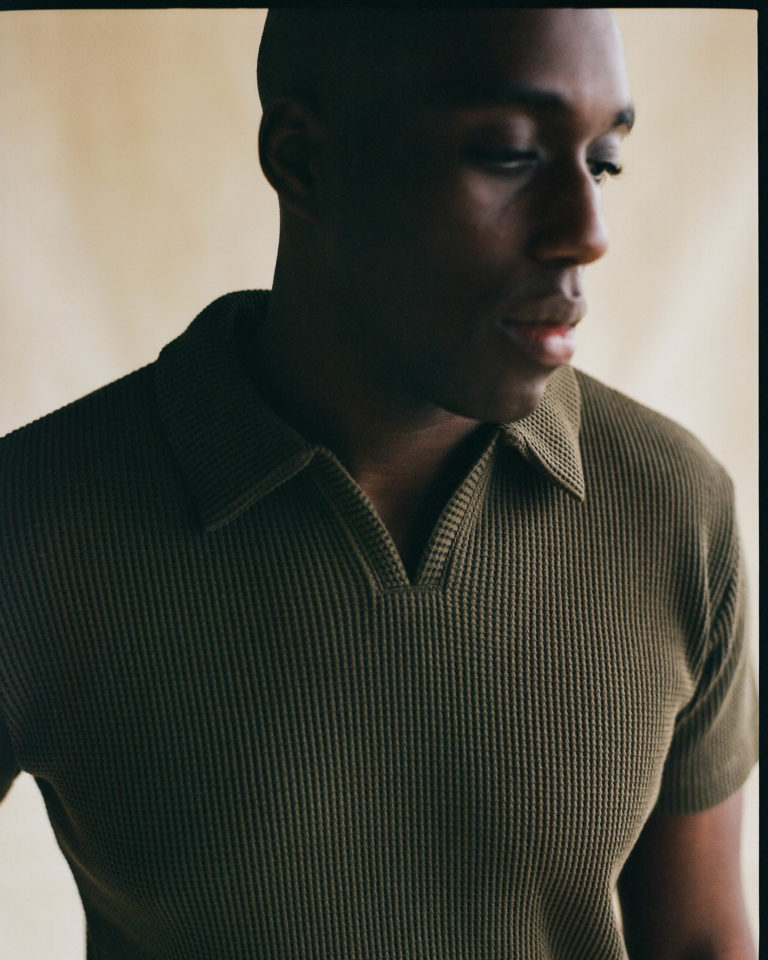 While brightly coloured casual pieces are key to effective Spring style, nothing enhances the power of your silhouette quite like a well made suit – and for the season ahead, the most sophisticated way to embrace it is via a coffee shade. This you'll see across our latest Hoxton set: crafted from an Irish linen woven (the only texture you need right now, FYI), shaped with a soft unlined construction and complete with deep patch pockets for a relaxed stance upon wear. All in all, it's the ultimate way to dress your charm, complimenting every underlayer from a white t-shirt to waffle knit. If you're interested in trying out an alternative shade, our personalised tailoring services are always on hand to help.