The eternal significance of the safari jacket
(cue the cultural credits)
With the arrival of our new ready-to-wear safari jacket, we chart the cultural history of its enduring design. From Clark Gable's cinematic style to Prince Charles' royalist revolution, here's five classic ways to reinterpret the staple today…
The safari jacket has come a long way since its inception. Like most menswear staples, it was originally designed for militaristic intentions, first surfacing at the beginning of the 20th century as part of the Khaki Drill uniforms for the British Army. Crafted from cotton drill, shaped with shoulder epaulettes and fronted with four bellow pockets, it was intended for swift utilisation amidst serious action. But little did its initial wearers know that it would go on to serve more than practical purpose – it would serve serious style purpose too.
Comfort is key to a man's wardrobe, and the safari jacket had it, so across the following century, it was adopted by all kinds of influential figures: writers, actors, artists and, naturally, designers – key players of which revitalised its signature features to give it more of a modern feel. Drumroll: Timothy Everest included. Our latest ready-to-wear drop is a green cord safari jacket inspired by the work of our bespoke team on ensembles for The Crown (but more on that later). Constructed in the UK from a luxurious cotton and linen blended corduroy – Italian, of course – the fully lined design features those classic four front pockets, belt loops, natural horn buttons and an inverted pleated back for ultimate comfort. We may be a bit biased, but we see it as an essential addition to your wardrobe – seasons and years aside.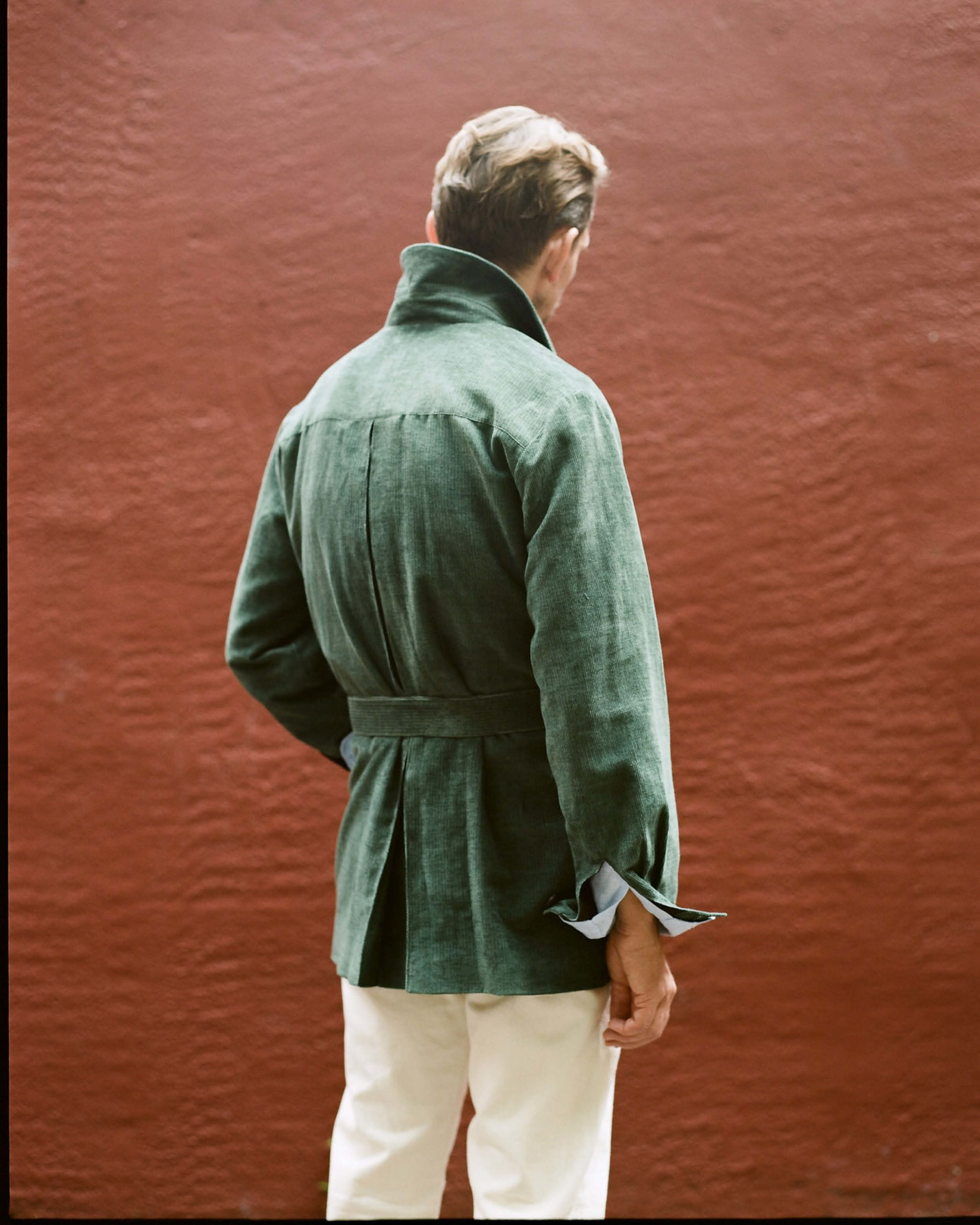 Should you be in need of some further temptation, allow us to serve it to you through a good dose of culture. More specifically, the five figures who styled the safari shirt into ensembles with enduring effect.
Much like a lot of menswear staples, the safari jacket rose to prominence through the silver screen. Specifically: by way of Clark Gable, whose role alongside Ava Gardner in the 1953 classic Mogambo saw him sport the style with serious force. Adhering to its practical sensibilities (fully buttoned, belt tied, waist cinched in), Gable's hunter character paired the piece in the most simple – but effective – way possible: relaxed wide trousers and suede lace up boots. An easy win, even today.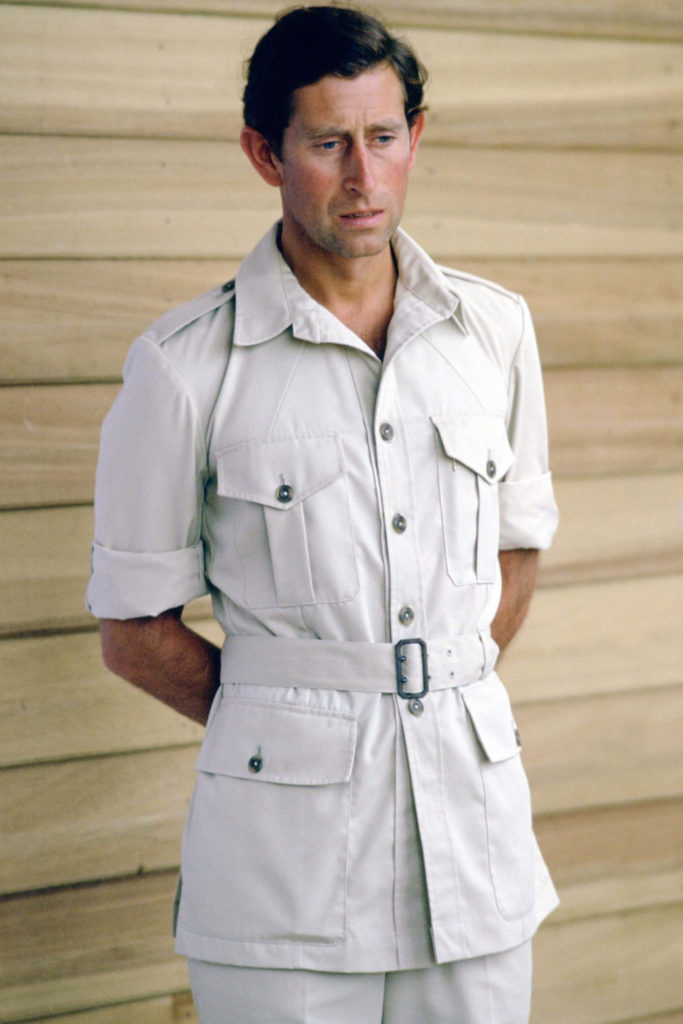 A non-fiction version of Gable? Easy: Prince Charles. We all know the royal has one of the finest collections of tailoring around, but style in his younger years didn't just revolve around sharp double breasted suits. A safari jacket was in there too, worn with a supplementary trouser during his visit to Uluru with Diana in 1983. Though it looks classic at first glance, we're particularly into Charles' nonchalant way of wearing the jacket, as it looks like his had long sleeves which he rolled up to accommodate the weather. A cultural reference which demonstrates the design's eternal appeal.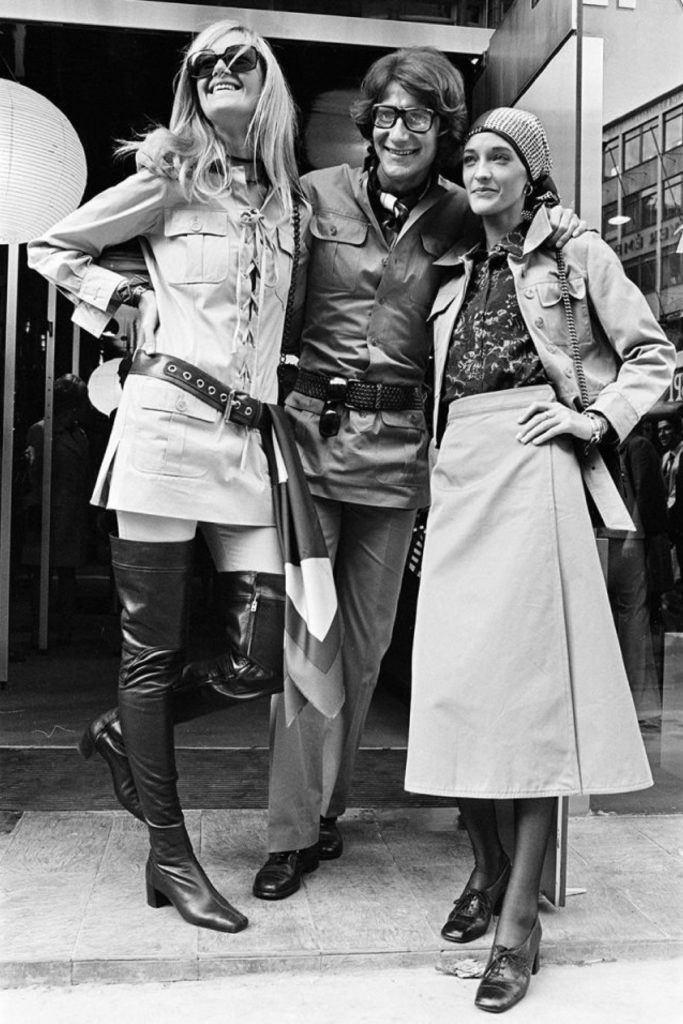 Now, onto fashion. Sure, we're a tailoring house, but we've got to acknowledge fellow designers who carried the safari jacket into the modern age. Most obviously: Yves Saint Laurent. First introduced in his 1967 runway shows (a revolutionary moment for womenswear), Saint Laurent was a frequent wearer of the piece in his personal life, elongating it's silhouette and moving its two lower pockets down for a slightly more relaxed feel. This longer shape, always complimented by a wicker hip-hugging belt, brought an ever-so-slightly flamboyant take on the menswear essential – and as we understand today, that's definitely not a bad thing.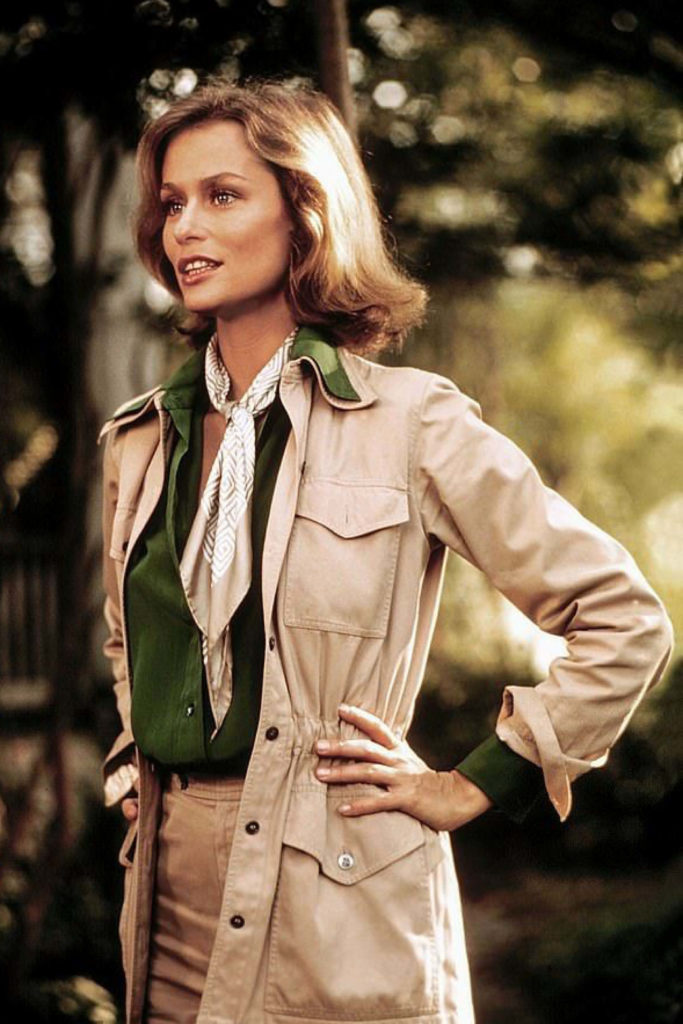 We may be a menswear brand, but we've got to give styling praise for the safari jacket where it's due – and American model Lauren Hutton was one of the best to do it. Worn in an unbuttoned manner over a relaxed khaki shirt (collar pulled out for a super stylish touch), printed neck tie and high waisted cotton trousers, her act of repositioning a masculine piece into a feminine silhouette was simply superb – and swiftly confirmed the staple as a one for both sexes. So to the women reading this, take note for this summer.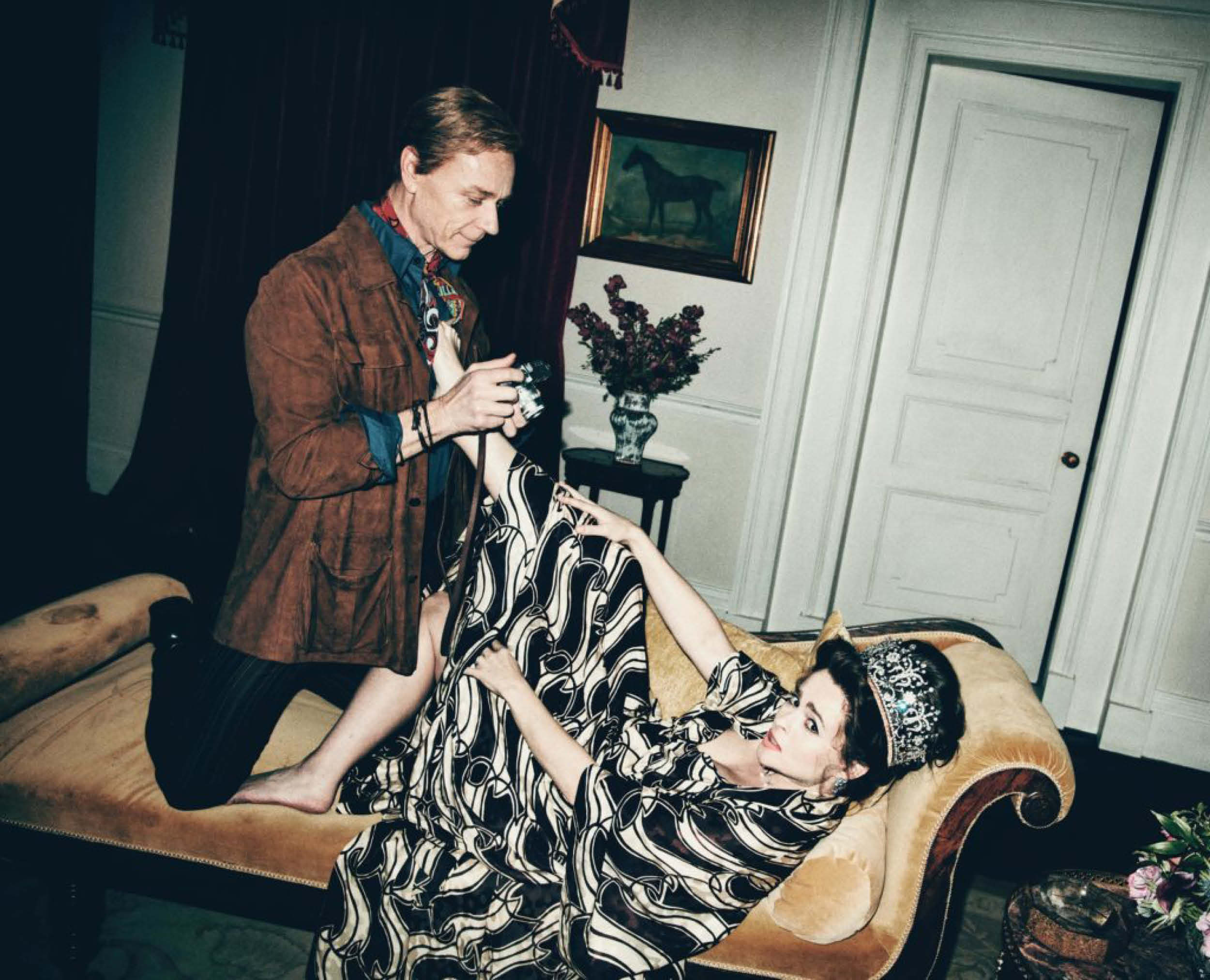 Ben Daniels (AKA Anthony Armstrong-Jones in The Crown)
As captivating as The Crown is, there's one reason above all why we love it: for the style. That's largely because we were part of its curation, designing a replica of the natty suede safari jacket Prince Margaret's husband, Anthony Armstrong-Jones, famously wore. Handmade by our bespoke team in a tobacco-hued goatskin, actor Ben Daniels wore it masterfully alongside a deep blue shirt, silk scarf and straight cut tailored trousers. Consider this your go-to port of call on how to wear the piece this summer – centralised, of course, by our latest corduroy design.