Why your wardrobe needs one
From James Baldwin to Bryan Ferry, meet the five men who stitched the stylish reputation of our go-to knitted accessory…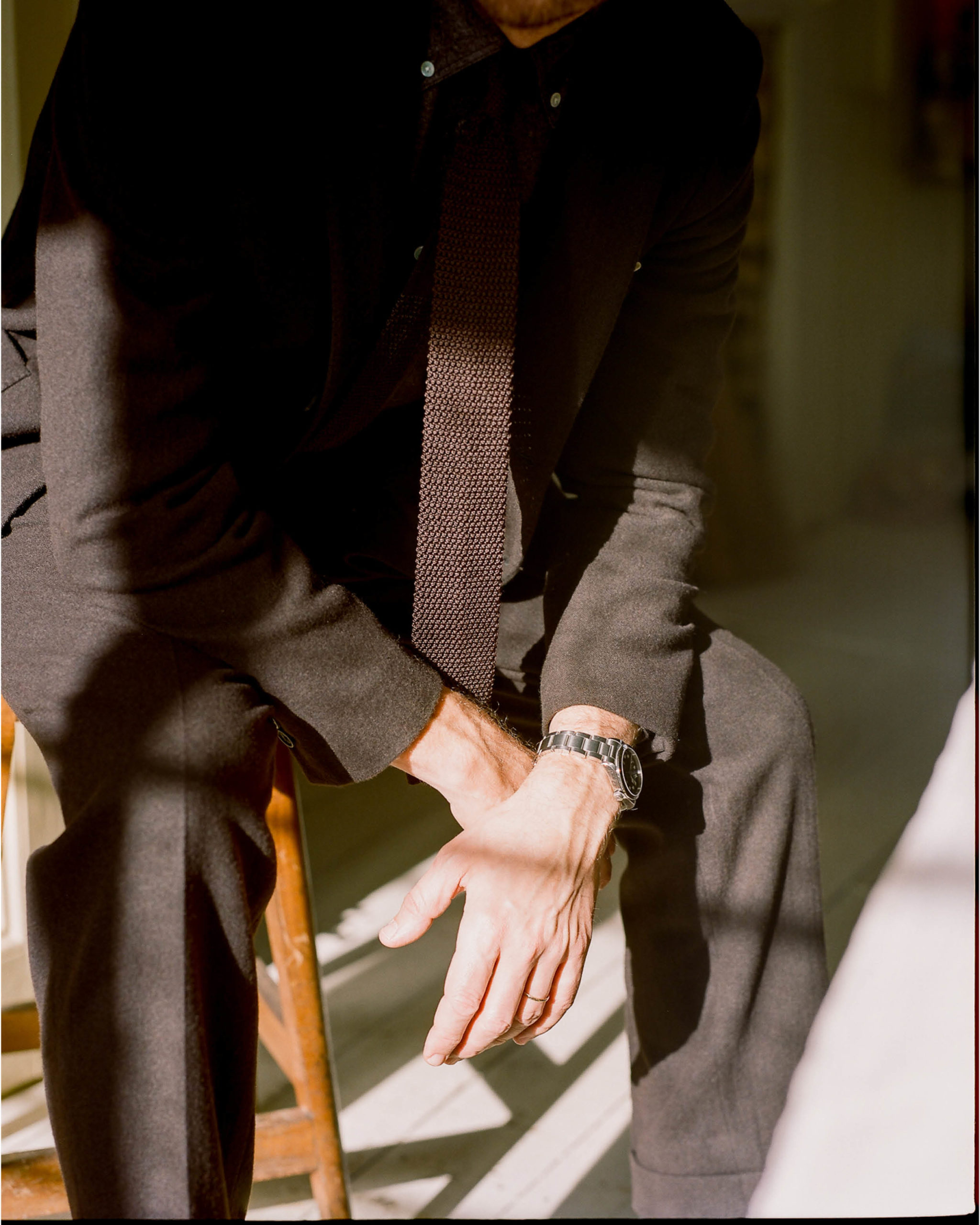 January presents a bit of a battle for our wardrobes, because our top priority is to accommodate our selected ensembles to the coldest temperatures of the year. Sure, the obvious solution is layering – and it's a great one if you enjoy styling a selection of your favourite pieces together – but more often than not, the depths of a winter ensemble are lazily concealed solely by a finishing overcoat. Fortunately, there's one accessory which – is exhibited in the centre of your layered gear – guarantees an instant style elevation. Drumroll: the knitted tie.
First emerging around a century ago, the woven accessory rose to prominence among the working class, as it was easily constructed from accessible, raw materials. Designed to sit slightly shorter than your average tie, the reputation for its richness today was sealed in the sixties, as it was a perfect compliment to the slimmer, higher-waisted silhouettes embraced by mod musicians and silver screen stars alike. Here at Timothy Everest, we're influenced by style from both sectors, which is why our current accessories collection includes an abundance of knitted tie designs. Should one take your fancy, here's five classic ensembles to cite for supportive styling – provided, of course, by the cultural mavericks of menswear…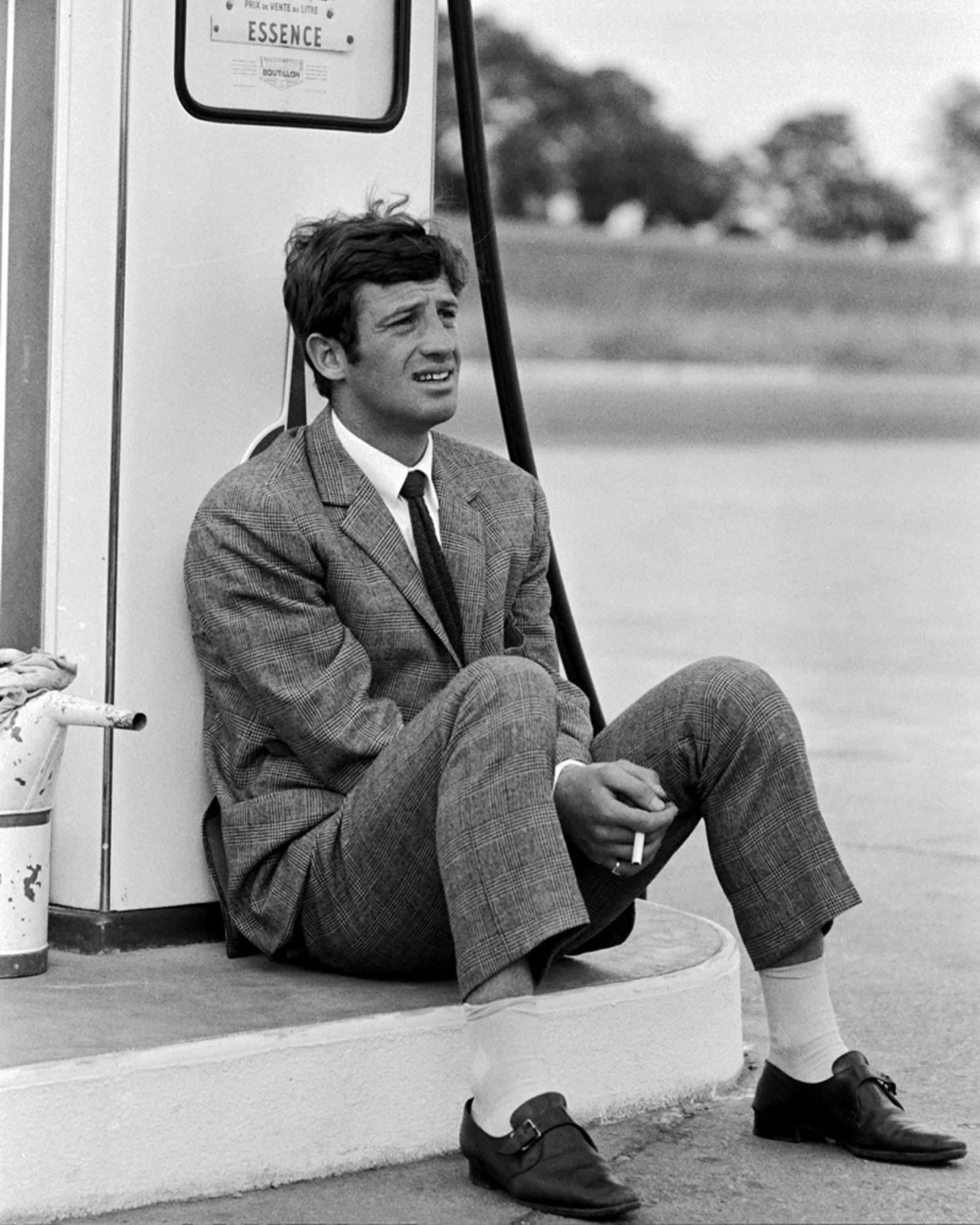 Jean Paul Belmondo – one of France's biggest cinematic stars – was an expert at embracing formal clothing in the most insouciant manner possible. Case in point: this outfit on the set of Pierrot Le Fou: monk-strap leather loafers, a soft Prince of Wales grey check suit, white shirt and, of course, a knitted tie. The latter did much to relax the formal status of all other items, so take a look at our simple selection for a similar je ne sais quoi effect.
American writer James Baldwin may have been known for his literary excellence, but his level of style was equally supreme. Specific praise goes to his frequent balance of texture: exemplified perfectly here through a velvet single breasted jacket, cotton button down shirt and ever-so-slightly striped knitted tie. Follow suit in the velvet finish for a rich winter wardrobe move.
007 is one of the best-dressed fictional gents in the world, so it's no surprise that a knitted tie sits in his wardrobe. In this case, the accessory came courtesy of Sean Connery: verifying his sartorial flair by way of a single breasted wool blazer (much like our Windsor design), long-collared white shirt and woven accessory. We suggest going for a tan coloured tie to amplify the elegance of your silhouette (if it looks like Connery's).
Continuing with the stars of the silver screen: Mr Paul Newman. Yet this time, through a slightly undone (yet somehow, equally sophisticated) sartorial move. While this probably wasn't intended on his part, it still manages to prove the power of the knitted tie when it's totally off-duty. Oh, and also gives you a nice reference in the appropriate length to balance upon fold. As Newman would likely advise, keep it short and sweet.
Fifty years on from the offset of his fame, Roxy Music frontman Bryan Ferry is still pulling out all the stops through his sartorial game – and the accessory he continues to rely most on is a knitted tie. His featured design here is etched with a subtle white dot (just like our own): a subtle statement which works perfectly to emphasise the maximalism of his suit's lapels. The ultimate cultural reference for those who enjoy a touch of extravagance via tailoring.