Made in Britain, manufactured in the UK, crafted in England. Depending on your perspective, such terms might seem outdated, blinkered, or even negative. But at Timothy Everest, we like to keep it local, and stay true to our rain-soaked roots. Many of the cloths that we cut, sew and stitch suit-wise hail from the sceptre'd isle. And where we can, we like to use textiles manufactured close to home.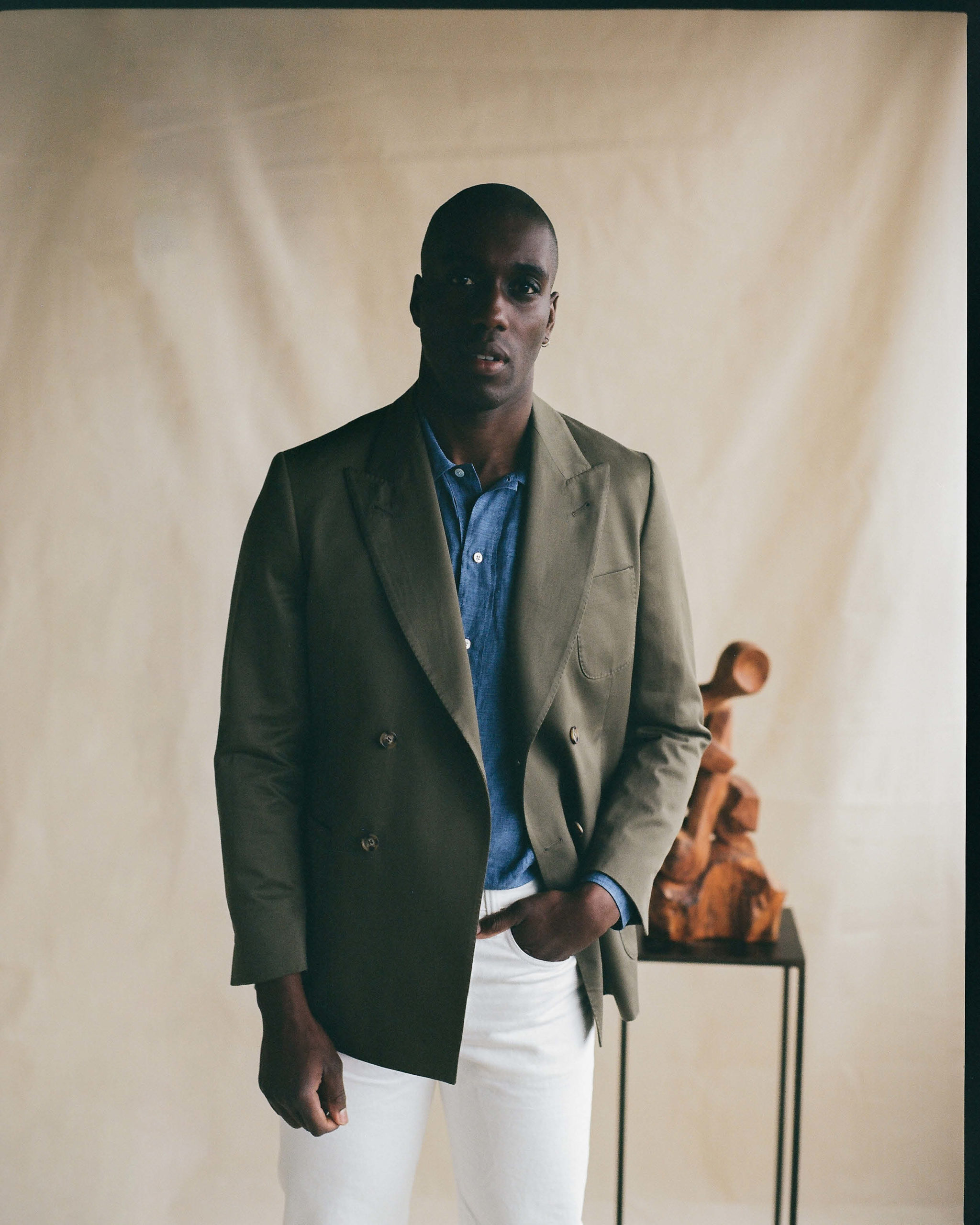 Of course, cloths will come from Italy, Japan and elsewhere, but we are distinctly British, and pleased to be so. Sustainability is a laboured term these days, but if you want clothing with trackable provenance, meticulously made with love and care by passionate people, to a standard that will last a lifetime, then look no further.
This patriotic declaration can most certainly be applied to our latest Cotton Drill jackets and trousers, cut from a cloth made in the spiritual home of textiles, the north of England.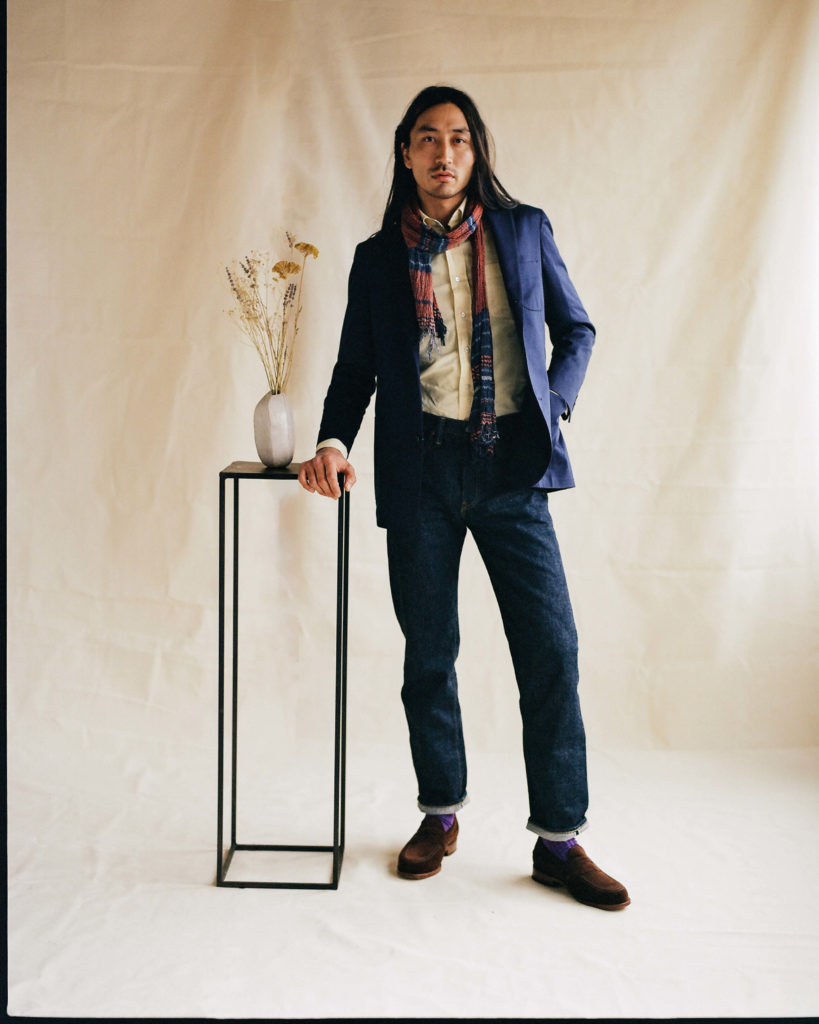 Cut from cotton drill, named for its use in military clothing, this twill woven fabric is milled in the UK on the border between Lancashire and Yorkshire, a region steeped in a rich history of textile manufacturing. The diagonal weave and substantial (but not too hefty) weight makes it hardwearing and versatile, being both easy to wear and easy to care for. Getting better with age, the cloth adapts to a range of temperatures, temperaments and territories. Its texture and feel make it imminently wearable with any number of other articles. Like any well drilled cadet, this cloth is ready to do battle, every day of the week.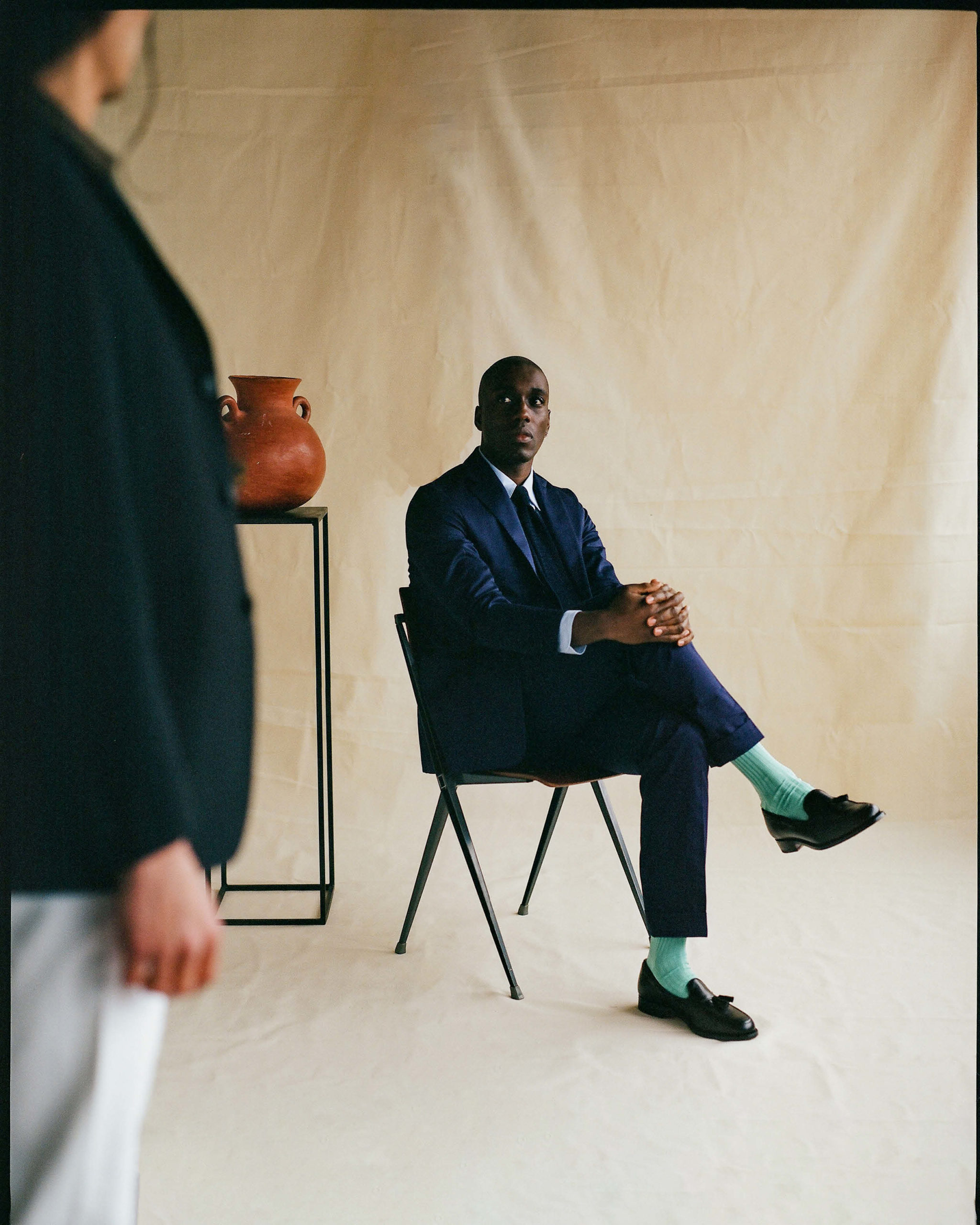 Navy Cotton Drill Hoxton Suit
Much like its namesake – the eclectic east London neighbourhood – the Hoxton Blazer in navy is ready for anything – from daylight dashes to the design studio and then on to a tapas bar for tea. Everyday escapades that could be matched with a pocket square and knitted tie for a pop of colour, or just a gentle open collar in a contrast hue. To wear or not wear a tie? Whatever is nobler in the mind on any given occasion.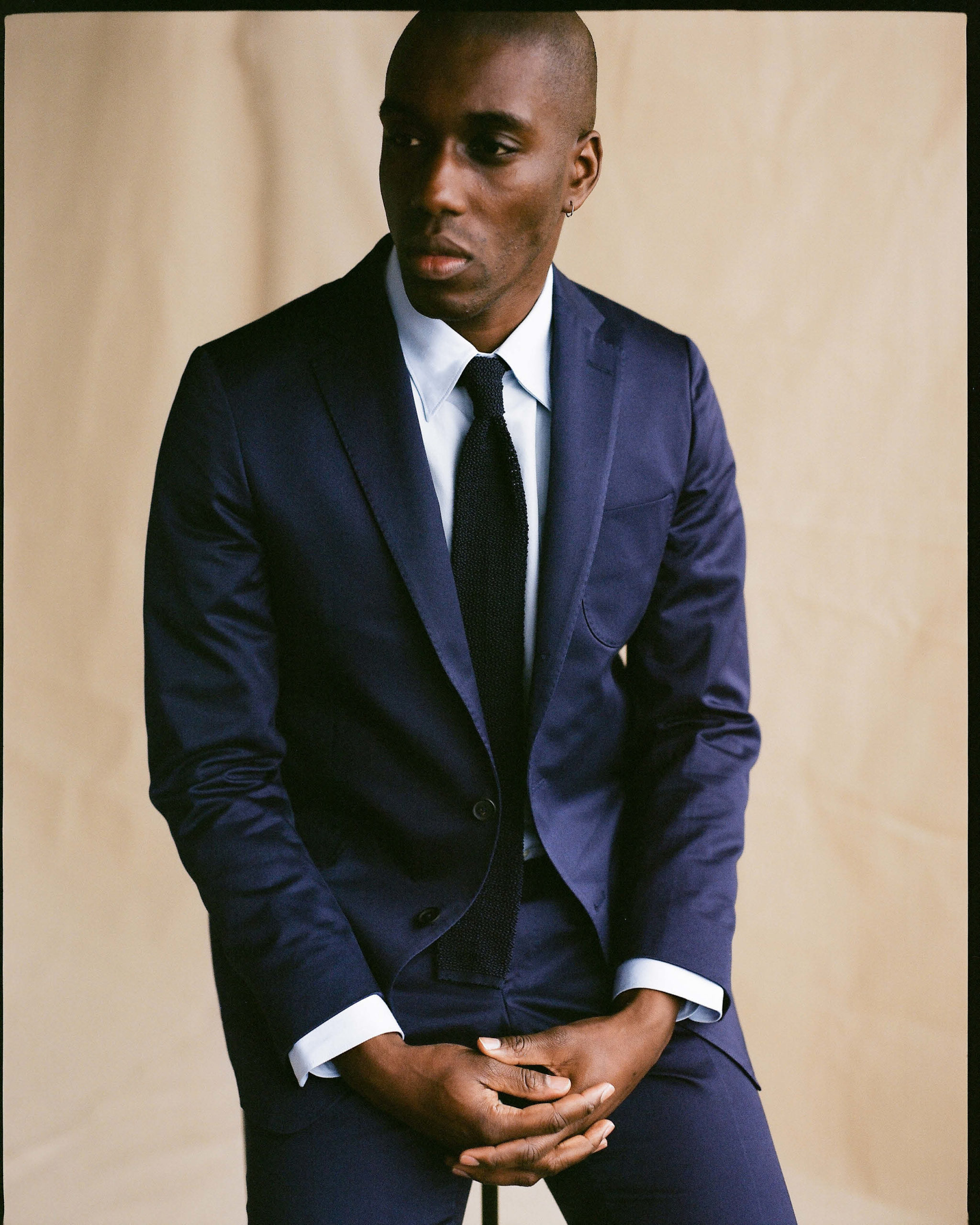 The lapel's lines taper as serenely as a twilight stroll by the canal (Venice or Islington), and the single vent and patch pockets give an air of workwear savoir-faire. So, whether your look is laidback and lyrical, or debonair and dynamic, the suit works to frame your mood and venture. The jacket is also unlined for breathability, weight and feel, and as previously suggested, the cotton drill will work with you and improve through time.
As for the trousers, they really do complete the look and we'd highly recommend you match the jacket with a pair, cut to our house-standard pleated style and wearable all year round, with or without the jacket.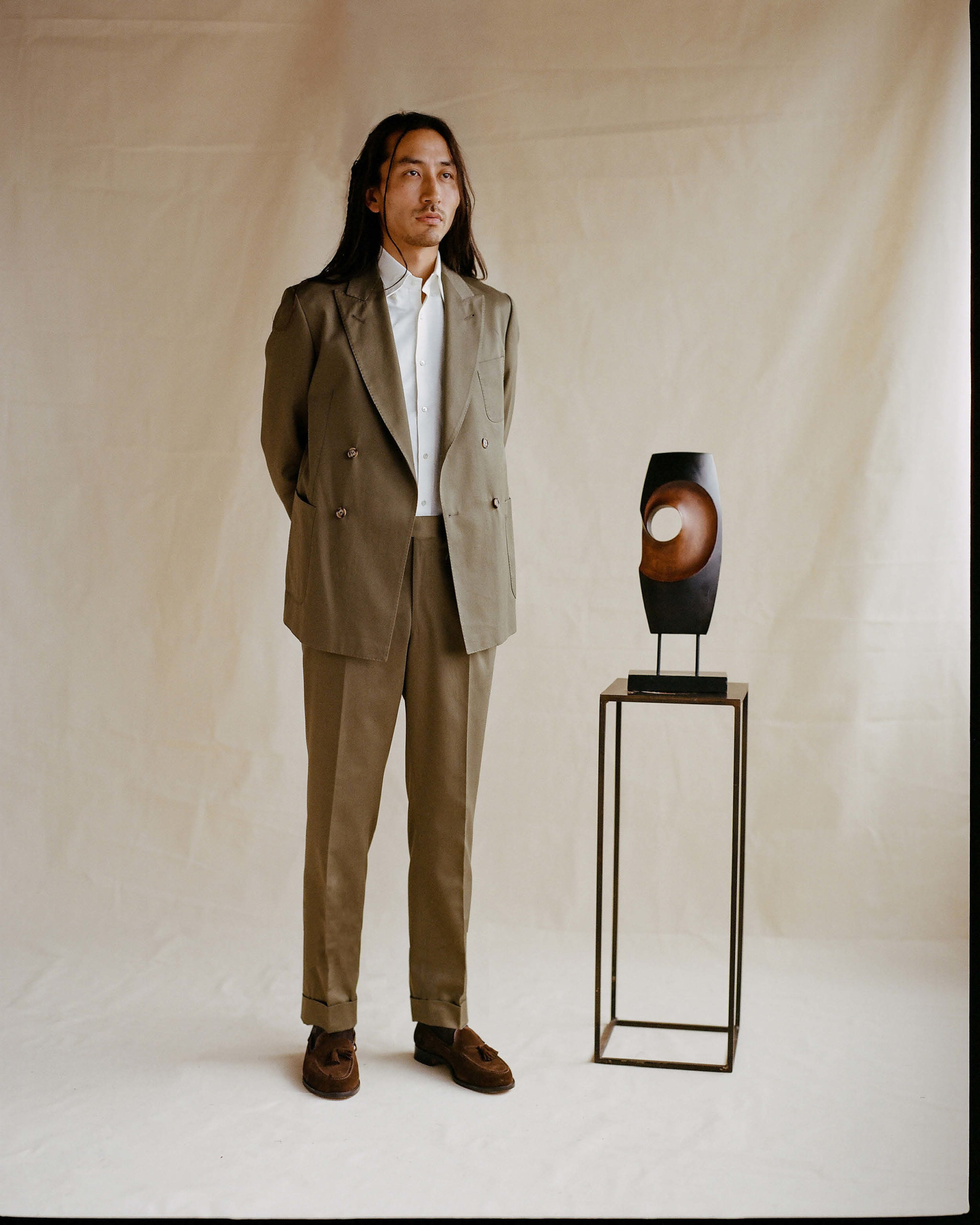 An acronym of 'Double Breasted', this four-button design is a step to the west from its Hoxton cousin, perhaps for the more romantic days on the Maida Vale Riviera or that inevitable wedding in California. As majestic a design as the horse you rode in on, the substantial yet breathable twill cotton in Lovat Green, a colour somewhere between olive and khaki, feels like the softest of canvases. And it is a canvas for which you can paint any picture you desire.
Buttoned-up or down, the jacket can be matched with a number of trouser styles, shoes and accessories. A Tamaki Niime scarf, loafers or even jeans, to break up the more regimental heritage of the distinguished lapels.
The jacket is half-lined and double-vented, but also has the patch pockets and two internal jet pockets for concealing your essentials. Horn buttons finish this modern twist on a classic design. Match with the flat-fronted or pleated trouser in the same cloth for true summer sharpness, and think of them as high-end chinos, with a fabulous jacket to match.