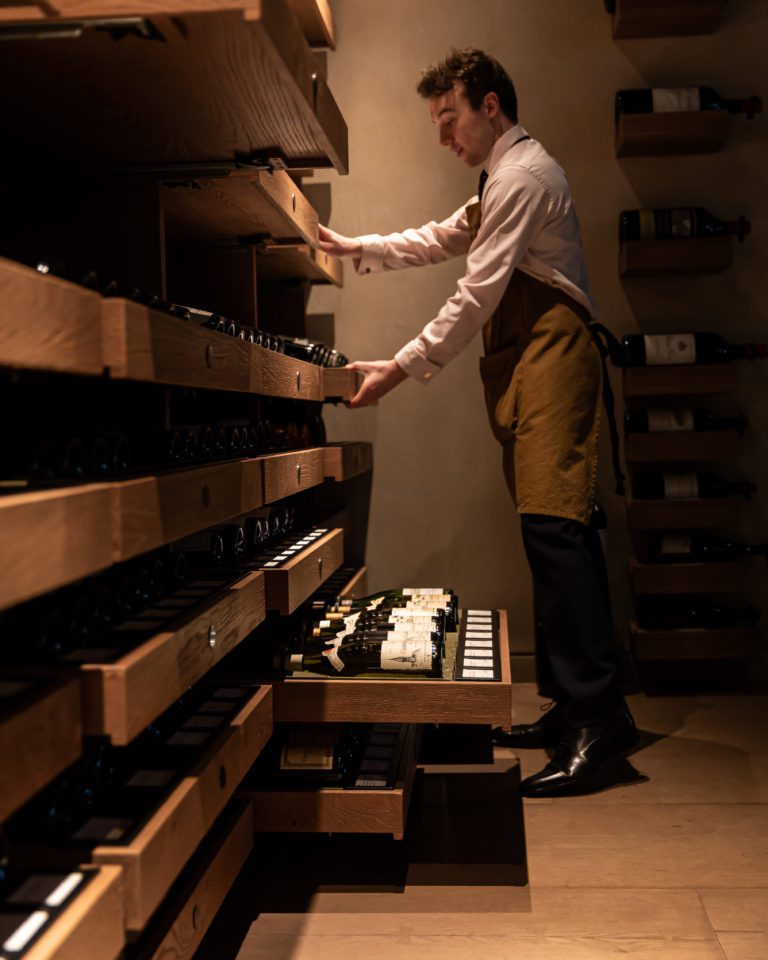 Berry Bros & Rudd is one of the last remaining Grand Old Dames of London retail. Founded in 1698, its cavernous cellars occupy a mighty chunk of real estate in St James, and have hosted secret meetings for the exiled Napoleon III and supplied every monarch since George III with provisions and libation.
Still family-run, the current Creative Director Geordie Willis has an eight generation employment history with the venerable firm, and it is safe to say, he's a good man to turn to for advice in stocking your own cellar for the months ahead. The sight of their black and gold delivery trucks pulling up outside the house in the past few weeks has kept many of us sane and satiated during this lockdown, and Mr Willis was kind enough to distill four us some sage advice on matters inebriating.
"My grandfather used to tell me that the relationship a gentleman has with his wine merchant is not dissimilar to the relationship he has with his tailor. 
A rapport grows over time as each party gets to know the other, one side in service, the other benefiting from a lifetime of experience and expertise. In due course the tailor or merchant will often become a trusted friend, playing a supportive role that can last for decades or, in some cases, cross generations. Their discretion is of utmost importance of course, for they know a great deal more about your habits of consumption than perhaps even the closest of acquaintances. 
It is a shame that those who know little about wine will, by default, visit a local supermarket where they will inevitably choose a bottle based on cost or whatever deal might be running that week. Those more knowledgeable often turn to an independent merchant where they can ask pertinent questions showing their intimate knowledge of the Left and Right Bank. If one approached this in the other direction it might be much more fulfilling. A knowledgeable wine drinker will find much to satiate their needs in the better supermarkets, where wine ranges continue to get better and better, while those who are interested but not yet knowledgeable will have a far more elevated experience speaking to an enthusiastic member of staff in an independent merchant. Nothing is more satisfying than when a customer comes in purporting to know very little on the vinous front but with clear ideas around the drinking occasion. Perhaps it's an old friend who hasn't been seen for a while, a new romantic interest or a 'thank you' for a considerate act. Wine merchants relish these challenges and take great pleasure in finding the right bottle for the right person, regardless of budget and nothing is more satisfying than when a customer returns, waxing lyrical about the wine that was recommended. A relationship starts to build and both sides are amply rewarded.
So I would recommend that everyone endeavours to support independent purveyors of fine goods, particularly during these trying times. The idea of 'less but better' is not new, but it is more relevant now than ever. These are all lessons that I learnt from my grandfather and lessons that I try to live by. In the spirits of acting as a trusted friend, these are all wines that I have enjoyed recently and would happily recommend:
 2017 Au Bon Climat, Chardonnay, Santa Barbara County, California, USA – £25.95
2018 Bolgheri, Rosso, Grattamacco, Tuscany, Italy – £27.00
2017 Bourgogne Blanc, Benjamin Leroux, Burgundy – £25.00
2017 Berry Bros. & Rudd Zinfandel by Ridge Vineyards, USA  – £32.95
Berry Bros. & Rudd English Sparkling Rosé by Hambledon, Hampshire, England – £27.95