We are currently missing a lot of things. Everything from meeting friends for coffee to half price Mondays at the cinema seems like a distant memory. Living in London, there's nothing we miss more than the wealth of culture we used to take for granted. We asked curator and archivist Cyana Madsen to talk about one of her favourite recent exhibitions.
It isn't just people who are tasked with keeping our distance these days, it is also our art. It must be a strange new reality for those pictures left up on walls, unlooked at. Hanging in empty hallways, deafeningly silent. Do the paintings long for a gaze, for the warmth of a visitor standing too close? Or is a bit of peace for them, to know that they still exist even without being seen? Perhaps we can take solace from that.
The exhibition Masculinities: Liberation through Photography was meant to be on view at the Barbican until May 17th, though now the bodies and faces it features will hang indefinitely pending better news, albeit without any visitors to appreciate its excellence.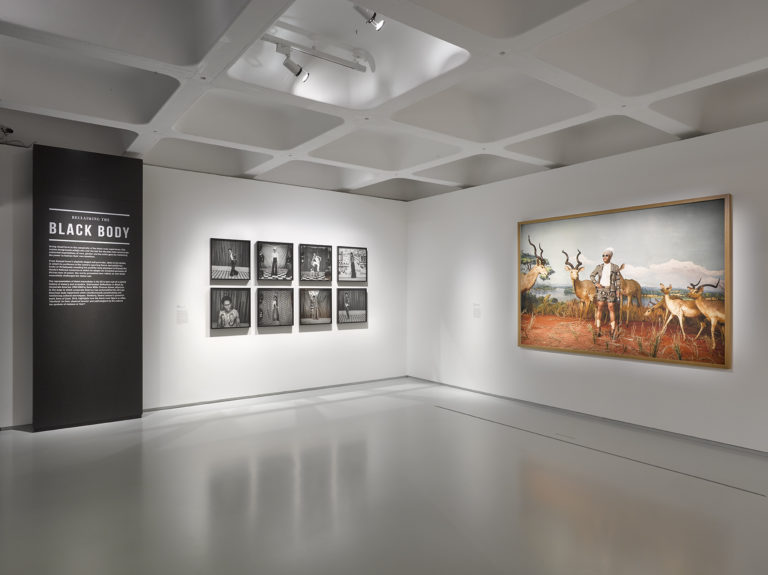 Set in the cool expanse of the Art Gallery, Masculinities is a searing look at the good, bad and lovely of what masculinity can be. At turns tender and brutal, the photos and films on display echo the nuance and complexities of maleness: seen from within and without. That clothing should play a key role in so many of the artists' work is unsurprising; "clothes makes the man" is a cliché for good reason.
So much of what dressing up is, is the performance of a character; and playing at manhood is one of the trickiest roles of all. Masculinities highlights this by placing the boundary pushing self-portraits of a young Samuel Fosso in skintight flares and platform boots (taken in 1970s Bangui) across the floor from the braggadocio of Karlheinz Weinberger's mid-century rebel teens. On another floor, the fragility in Catherine Opie's portraits of American jocks face off against Karen Knorr's black and white photos of the Whitehall set.
The fullness of the human experience can never be depicted in one exhibition, but the depth and diversity of art in Masculinities makes a noble attempt. What a shame it is that more of us couldn't take in the tragedy and beauty presented there before it shuttered. In lieu of the physical space, there is a thorough exhibition guide, short films and a playlist available on the Barbican website. The word "catalogue" doesn't do justice to the thoughtful tome put out alongside the exhibition, which features enough of the exhibition imagery and essays plumbing the titular concept to tide you over.
In the meantime like so many, many other arts spaces, the Barbican will sit silent and wait for our eyes and minds to return. And when we do emerge back into the public world, it will be art, the windows that peer into the heart of the individual, that will help us understand this collective experience.